Internet of pills plan calls for drugs to tell you when to take them
Smartphone app will send reminders to E-Ink labels on your favourite medicines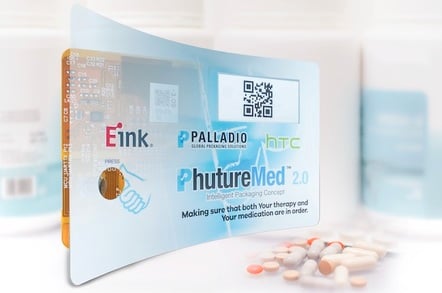 E-Ink, best known as a maker of e-reader screens, has teamed up with healthcare tech services outfit HTC Healthcare and pharmaceutical packaging specialist Palladio Group to design dynamic labels for medicines.
The three have cooked up an idea whereby patients load an app onto their phones and input data about what medicines they are expected to take, and when they should take them. That app then transmits data to E-Ink labels on pill boxes or bottles. Those labels will let patients know it's time for more drugs. Or as the three put it, "delivering vital information to patients and creating a gateway to improve patient engagement."
The Register hates* to hose down oddball Internet of Things enthusiasm but feels bound to note that the breathless announcement of the idea doesn't explain how an E-Ink screen on a bottle or package is more effective than notifications or vibrations delivered through a phone in a patient's hand.
Let's instead consider that the three companies' aim is to get people to take their medicine, literally, because "Medication nonadherence is a common, complex and costly problem that contributes to poor patient outcomes and dwindling healthcare resources." Fair enough: anything that keeps patients healthy without clinical interventions is surely welcome, although it is not hard to wonder about the impact of packaging with an inbuilt screen. Yes, we note E-Ink's point that its product sips virtually no power at all. We also note that the bill of materials for a pill package is pretty short and unlikely to get any shorter with the addition of any screen.
The trio of companies also reckon the bottles' electronic labels could offer a button allowing swift re-order of drugs as supply depletes.
They're also predictably silent on security, which The Reg reckons needs to be addressed very, very well before someone hacks a package to encourage a lethal overdose. ®
* Okay, we admit you've caught us in a lie.