Killer Hurricane Matthew threatens to wreck Kennedy Space Center
Launch site shuts down as mega-storm looks set to hit it head on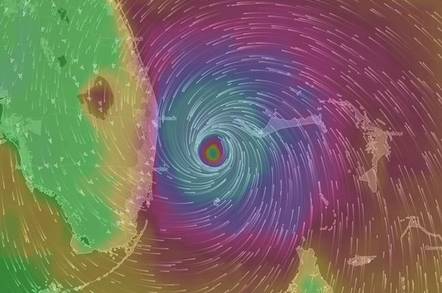 Hurricane Matthew, the category four storm that has already claimed more than 100 lives in the Caribbean, is bearing down on the coast of Florida – and NASA's Kennedy Space Center looks likely to take an absolute hammering.
President Obama has declared a state of emergency in Florida, and the state's governor Rick Scott has told 1.5 million coastal dwellers to pack their bags and get out of the danger zone. Meanwhile, the NASA and US Air Force spaceports have gone into lockdown as staff brace themselves for the worst.
"Kennedy Space Center is now in HurrCon 1 status, meaning a hurricane is imminent," NASA's Brian Dunbar said in an update on Thursday.
"Hurricane preparations at Kennedy were completed early last night, and remaining employees were then sent home. A final check is being made this morning around the space center for any potential loose debris."
The facility is now in the hands of a dedicated hurricane ride-out team, which will hunker down in the Emergency Operations Center – located in the Launch Control Center at Complex 39 – and monitor the situation as the winds increase in power. In all, 139 staff will remain in the Center until the danger has passed, but they won't be allowed outside until wind speeds fall below 50 knots (approximately 58mph).
All of the site's other buildings built after the 1992 visit of Hurricane Andrew are built to handle winds of 130mph, but Matthew is generating speeds of over 140mph. Some older structures are going to have real problems, and there's also a $1.2bn Geostationary Operational Environmental Satellite-R (GOES-R) weather satellite onsite ready for a launch next month.
At Astrotech in Titusville, teams building tent over NOAA's GOES-R satellite as extra protection against approaching #hurricaneMatthew. pic.twitter.com/pJTtX8m1Ix

— James Dean (@flatoday_jdean) October 4, 2016
Even if the buildings survive the rain, there's still the storm surge to deal with. If it hits at high tide, around 23:48, meteorologists are expected a surge of up to nine feet, and that's very bad news for a facility that's build on a glorified sandbank.
Siting the space center on a barrier island makes a lot of sense if you're looking to avoid population centers – but it's a very unsafe place to ride out a hurricane. The eye of the storm is predicted to stay offshore but to move up the coast, ensuring that Kennedy will get a severe pounding.
Peak winds are expected to hit the facility in the very early hours of Friday and then head northwards. ®
Sponsored: What next after Netezza?