Self-driving networks will arrive before self-driving cars, if Juniper has any say in it
Automation, so we don't waste money just keeping the network switches alive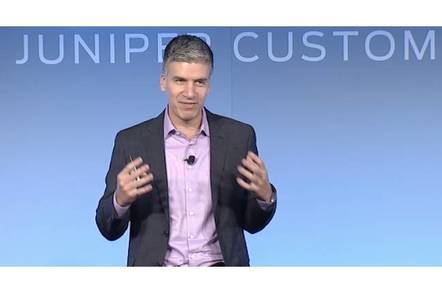 It is with considerable embarrassment that your humble hack owns up to following a dated link in the first version of this story, picked up last year's keynote. What follows is a discussion of this year's keynote.
For 2016, Juniper CEO Rami Rahim focussed on what the company is pitching as Digital Cohesion.
One of the longest projects in the IT industry is, Rahim suggests, coming closer to fruition: a future where the "technology" is a lot less intrusive, disappearing into the background, and instead the technologies automatically adapt themselves to us.
"We're heading into an era where there are going to be some new factors … that are only going to accelerate how fast we move, as an industry," he said.
Time-to-adoption – whether it's a technology or a business model – is way faster than it used to be.
"We're living in an era where five people and an idea" can disrupt billion-dollar industries.
"Access to technology: anybody has access to essentially an unlimited amount of compute and storage resources," and that's marching in hand with the penetration of the smartphone.
The question is where a Juniper can play in all of this – and how it can play in a way that makes it more than just the builder of the big, dumb pipes.
One way is that the world is moving away from "point services" on the one hand, and "user-initiated tasks" are replaced by predictive, autonomous services that "know when appear and to serve".
The user experience depends on the application's performance – and that "depends on the rate that you can process, store, and move information".
No longer the preserve of the CPU, performance is now about how we pool resources by connecting data centres together – and (thankfully for networking businesses), "that puts tremendous stress on the connection between the consumer and the infrastructure".
Networking suffers from the slow-down of Moore's Law, however – and trying to overcome that means networking has to move to the same "scale-out" model that builds data centres.
But it has to happen without operational complexity bringing the whole world to collapse.
That drives a need for networks to keep getting more self-managing: automation, in the networking business, means that at least some of the 90 per cent of spend that is merely "keeping the lights on" can be released – not, he says, to take away jobs, but to free up capacity to do new things.
"While the unit costs of humans only increases in time, the unit cost of machines only plummets in time," he said (mind you, like the rest of the industry, Rahim is gloomy about Moore's Law – we can still make transistors smaller but we're close to the point where we can't make them faster, he'd noted).
The networking business has taken a "timid" view of automation, and to cure that, Rahim touted a vision of self-driving networks.
That starts with sucking lots of information from the network and running it through the industry's favourite acronym machines: AI, big data and machine learning. The aim is to get rid of the "manual work required" to keep networks running.
And – party like it's 1989 – interoperability is still big on the requirements list for "Digital Cohesion", because we need "whole new levels of interoperability" if applications are going to talk to each other properly.
There are too many layers that don't benefit from interoperability – optical networking has too many "all or nothing" decisions that mean a choice for one part of the network has to be followed for the whole network.
"These layers must come together – we must operate and manage" the whole network "as one", because operating and managing different networks is inefficient. Packet optical networks need the same automation already mentioned, to "unlock the trapped capacity" exists today.
Finally, he moved onto trust. We need not tell you that the Internet has a big trust issue; it's nice to know that Rahim agrees.
Security fits into Juniper's hope for automation, because automation can "turn the unknown into the known" – that is, identifying bad activity and bad actors on the network.
There's a Juniper white paper on the whole thing here. ®
Original copy
Juniper Networks CEO Rami Rahim has looked at where the world of "white box" merchant silicon is going, and doesn't seem to like it much.
Keynoting the company's annual partner hugfest, NXTWORK, Rahim appeared to take aim at Broadcom while announcing that the company's going to ship a version of its Junos OS that's "completely decoupled" from Juniper's hardware.
Juniper is one of a handful of vendors maintaining a heavy investment in silicon, something that looks nearly anachronistic in an increasingly white-box world.
Rahim said Juniper's asking where the value in silicon should come from in the future: "Should it come from a single merchant silicon vendor? Or should there be more choice?"
The company's white box strategy will mean other software developers will be able to write software and features to Juniper silicon.
That probably makes sense: after all, even within the Gin Palace, "85 per cent of our engineering resources are developing software."
Given that Juniper's hardly alone in this, that also means the painful transition already confronting the networking industry is going to continue: the business model has to change.
"For whatever reason," Rahim said, that software effort is still monetised on a per-port basis, and "that has to be changed".
While he didn't give the NXTWORK audience details on what the new model will be, he said the "decoupled Junos OS" is part of the company's transition.
On virtualisation, Rahim shadowed a cloud CPE system that "enables services or applications to sit in virtual machines anywhere, from the cloud to an on-premises device that's essentially a server.
"When you virtualise in this way … you give end users the ability to click on a button that enables services to pop up" – instantly, he said, instead of in weeks or months.
Within Juniper, virtualisation has also become a fundamental part of the company's own development effort: "engineers can go to a user interface and spin up, automatically, thousands of thousands of instances of virtual products, and test those products around the clock".
Virtualisation, automation, and the right balance of how to make forwarding decisions are the basis of how Juniper now views software defined networking, he said.
The early SDN architectures, which sought to pull everything into the controller / orchestration layer and make all forwarding decisions based on flows – these turned out not to scale well, he reckons.
It's more scalable to make forwarding decisions based on packets – not surprisingly, that's how routers make forwarding decisions, and Juniper makes lots of routers – with engineers instead working out "the right balance of intelligence that sits in the controller, and intelligence that sits in the box".
The full keynote video is here. ®