Commvault and pals should score when tape-ditching stampede arrives - analyst
Plus: Raft of product updates including HyperFlex support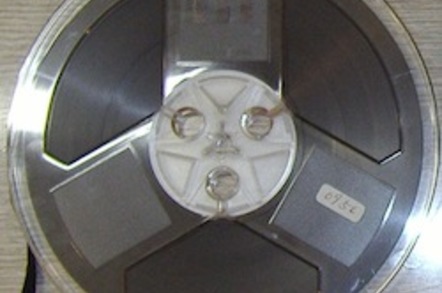 Commvault's data protection and management software has been enhanced and is going to support HyperFlex, Cisco's hyper-converged infrastructure appliance built with OEM'd Springpath software.
CommVault Data Platform product news includes:
Expanded capabilities for Amazon Web Services (AWS) beyond virtual machines to include protection of databases,
New backup, migration and data protection capabilities for applications and workloads in Oracle and Azure clouds,
Role-specific user interfaces on HTML-5 including a new admin console for database and virtualisation administrators to help users run and monitor their Commvault environment,
Better platform automation capabilities, such as automating complex data access and data refresh requirements for dev/test
Software Defined Data Services (SDDS) for Big Data and other high volume workloads,
APIs for customers to mix traditional and new workloads on nearly any infrastructure and aid them in transforming those workloads onto new or different infrastructures,
Copy data management - block level copy data management and support for flash storage array and cloud replication,
IntelliSnap support for Pure Storage,
Commvault has also announced that its Commvault Data Platform software has gained SAP-certified integration with the HANA platform running on IBM Power Systems. HANA users can have the CDP software do rapid recovery, point-in-time recovery, fast spin-ups, refresh test and dev environments or to create clone databases from snapshots.
SDDS
The company claims its Software-Defined Data Services (SDDS) provide a level of performance and scale for backup, recovery and archive that parallels the performance and scale found in many big data and digital repository environments.
Stifel MD Aaron Rakers attended the Commvault Go 2016 customer and partner meeting and believes Commvault's SDDS are being positioned "for high data volume workloads (e.g., Big Data, IoT, etc.) rather than SDS for primary tier-1/2 data environments." These SDDS capabilities will be released in the company's December quarter "across selected verticals with expansion over the next few quarters."
Jason Ader, a William Blair analyst, sees a cloud tie-up with Commvault's SW-defined storage services (SDDS), which he refers to as SDS; "Commvault SDS will eliminate the need for customers to use expensive purpose- built storage arrays as backup targets. Instead, customers will be able to leverage generic servers or the cloud as a backup target. While it will take time for Commvault to educate the market on this offering, it should substantially expand the company's TAM into the multibillion-dollar secondary storage space.
Commvault roadmap
Rakers writes that Commvaul'ts capacity-oriented pricing strategy could develop: "e.g., $1,000s per TB for tier-1/2 workloads to $100s per TB for big data / Internet of Things (IoT) requirements."
Future data management needs include "the need for native data write / management capabilities directly into public clouds." CommVault Go presentations repeatedly mentioned this.
They also discussed the "extension of workflow automation with integrated Commvault security modules across public clouds." This has an allied need "for greater orchestration across a comprehensive data management platform and resources – company highlighting its support for seven replication tools, integration with 5+ public clouds, 36 snap engines, and more than seventeen data types supported."
William Blair analyst Jason Ader said: "Commvault previewed analytics and business process automation capabilities for CDP that should roll out in coming months. The idea here is to leverage copy data for something other than backup, and tie into applications themselves to derive business value."
Cisco, Commvault and HyperFlex
Rakers says that Commvault's IntelliSnap technology aligns "with Cisco's Converged Infrastructure solutions (e.g., NetApp FlexPod, Pure Flashstack, VCE vBlock, etc.)" and mentions "the future integration [of Intellisnap] with Cisco's HyperFlex hyper-converged infrastructure solutions - expected with HyperFlex v2.0 release."
He points out that HyperFlex is currently limited to 8 nodes in a scale-out cluster.
Overall, Rakers says, "Cisco is clearly pushing deeper in the data centre infrastructure market – company should be considered a meaningful player, and potential disrupter, in the storage market." It has passed the 600 customer count for HyperFlex; the 500 point was passed in August, so progress is fast. Cisco reckons data us migrating to compute (and so away from arrays), and says it has shipped more than 800PB of server-side storage capacity.
Rakers expects a continual deepening of Commvault's Cisco relationship going forward.
Commvault and the cloud
Commvault supports more than 25 separate cloud service providers. Ader writes: "All of Commvault's new technology releases heavily leverage and integrate with the cloud, and operate under the framework of heterogeneous data management across cloud and on-premise data centres (what Commvault calls cloud federation). … Commvault …demoed the ability to move production workloads to and from the cloud—via its orchestration engine in CDP."
The company believes "it is well ahead of the industry in its ability to federate data across disparate clouds, which is enabled by its highly distributed indexing engine (its 'secret sauce')." Ader says that "it was clear from the event that most customers are not using the cloud for backup today but know they need to and are looking to Commvault for guidance."
"The most obvious use-cases for cloud are tape replacement and disaster recovery—these are no-brainers. Tape replacement eliminates the need to manage physical tapes in lieu of cloud storage archival, while disaster recovery eliminates the need to build out and manage a secondary data centre."
Stand-alone products
According to Ader: "In the past year, the company has launched stand-alone solutions for virtual machine backup and recovery, email archiving, and mobile protection. The VM product has seen early success and has allowed Commvault to better compete with Veeam, especially in the midmarket."
"In the December quarter, we expect to see the company release new stand-alone solutions for disaster recovery and test and development. These are areas seeing strong market demand, driven in part by upstart players like Zerto (DR) and Actifio (test/dev) that have introduced innovative products. Going forward, Commvault believes it can be a best-of-breed player in the various stand-alone segments while offering customers an on-ramp to the full platform (all the stand-alone solutions will work together within CDP)."
Comment
Commvault's desire to be "a best-of-breed player in the various stand-alone segments while offering customers an on-ramp to the full platform" is laudable and a big ask. If it can pull this trick off then customers will love it.
It seems to us on the El Reg storage desk that Commvault, like NetApp, understands that federating on-premises and public cloud facilities so that they appear identical is a crucial requirement for its product engineering teams. Commvault is travelling fast in that direction and sees the possibility of taking market share from on-premises silo providers, like deduping backup disk array target vendors, and replacing them with public cloud repositories.
We think all stand-alone data management services companies will have to federalise their offerings to present common services for on-premises and public cloud-based customers.
This will speed the adoption of the public cloud and we can expect evidence of partnerships between these companies and tier one public clouds - AWS. Azure and Google, and the tier 2 players like Verizon. In Ader's terms this is a no-brainer. ®