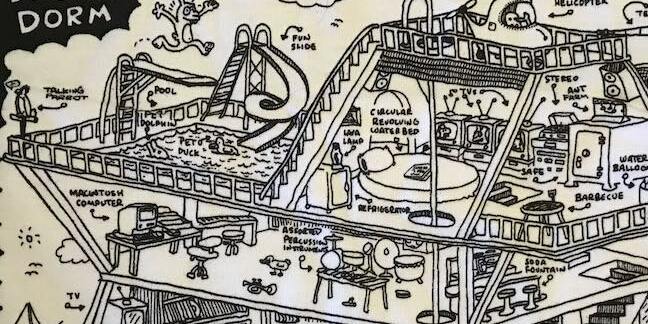 Conference Couture Welcome to another edition of Conference Couture, in which we relive odd moments of technology history through the branded tat given away at trade shows.
This week, one for the Apple completists.
Back in 1989 Apple was huge in education. But wanted to be huger, by getting university students to buy more Macs. And what better way to get students to buy Macs than to hire Matt Groenig to use characters from his Life In Hell Comic strip to illustrate a Mac's place in a student dorm?
In 1989 Groening was on the rise, as The Simpsons had been well-received as a series of vignettes on The Tracey Ullman Show and its first season in now-familiar sitcom form was slated for a December debut.
Mega-stardom was still in the future, so Groening presumably didn't mind some coin from Apple for the image depicted above and here in 2.8MB file that reveals lots of detail.
The image depicts Life In Hell character Bongo, the illegitimate son of the strip's protagonist Binky. Groening's work was splashed on posters used on Apple's campus and T-shirts for staff.
The t-shirt, unwashed and unworn, now sells for $CAN175 if you can find one.
Apple did indeed get bigger in education: it was one of the company's few redoubts during its 1990s slump. So perhaps Matt Groening can be attributed with keeping Apple afloat, among his other feats.
Thanks to reader Matt for the pics. He sent a few others we may use another week.
A technology that perhaps not even Groening could save was Digital Equipment Corporation's Alpha, the 64-bit RISC CPU it cooked up as a successor to its VAX.
Your correspondent once beheld Digital CEO Robert Palmer extol Alpha's virtues in Sydney, at the Intercontinental Hotel. It was rumoured Palmer took the same suite supermodel Claudia Schiffer had occupied the previous week, which led to tittering about him "sharing a supermodel's bed." The Hotel is also notable for its proximity to Sydney's lovely Botanical Gardens, in which Palmer apparently turned his ankle rather badly during a morning jog. So badly he struggled through engagements battling both a dodgy leg and the effects of Very Strong Painkillers.
Palmer's pitch was that Alpha was fast. So fast you just would not be able to do without it. Which made some sense in 1996 or 1997, which I'm pretty sure is when he made the pitch.
It didn't work: by 1998 Compaq acquired DEC and the company faded from history. Alpha was sold to Intel, which snuffed it.
But not before DEC tried to show off Alpha's speed by creating a horse-racing-game-inside-a-pen. The video below, sent to us by @StripeyMiata, shows off the 64-bit thoroughbred comfortably out-pacing the 32-bit glue-factory-candidate.
@TheRegister @ssharwood @AlphamanS 64-Bit vs 32-Bit as a horse race pic.twitter.com/EvROznX6bw

— Jonathan McCormack (@StripeyMiata) September 28, 2016
@ssharwood @TheRegister @AlphamanS Close up of the horses as you can see one has 64 as his number and one has 32 🐴 pic.twitter.com/GeSpSR8dxx

— Jonathan McCormack (@StripeyMiata) September 28, 2016
If you've some branded tat that tells a story, write to me and we'll try to write it up in a future Conference Couture. ®
Sponsored: Practical tips for Office 365 tenant-to-tenant migration