Google's hardware extravaganza: Ad giant takes on Sonos, Roku, Linksys, Amazon, Oculus... you name it
No market is safe from search engine monster
We say Wi-Fi, Google says Wifi
OK, finally, Google's new mesh Wi-Fi system.
With more and more things attaching to your home's wireless network, a number of companies have come out recently with routers that work together as a mesh so you can share lots of devices around your house.
This system works much better than extenders, and it is less hassle than wiring up several different routers using Ethernet cables. Google came out with its OnHub router last year and has taken that forward with its new system, updating the software and coming out with a nicer looking, smaller puck of a router. In fact, you probably wouldn't recognize it as a router at all.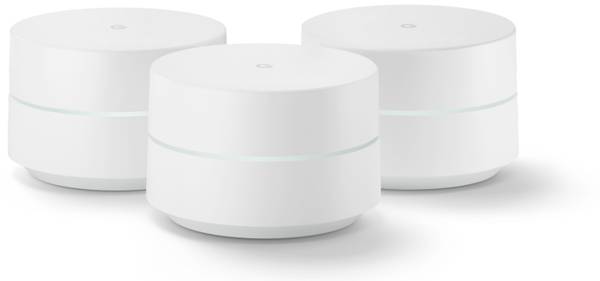 We had a good chat with product manager Ben Brown about this. The small white puck design, he argues, is superior to the traditional, ugly, rectangular box with antennas poking out of it. Why? Because people are more comfortable with sticking the little puck on tables rather than hiding them in cupboards.
The advantage to the pointy antennas, Brown argues, is basically "little more than 1dB," but pulling it out of the closet? 10dB. We doubt the 1dB low-ball figure but the reality of a router in open space is undeniable.
Brown also says the Wifi team has been working hard on the software, scanning available channels and pushing devices seamlessly onto the least congested, as well as shifting people from one box to another as they move around a home. If Google can pull this off – the marriage of software and hardware in a router – they could effectively steal the market. And with more and more of us using multiple streaming devices, as well as the slow increase in things like smart thermostats, this is definitely a growing market.
Plus, if you can take the ugly out of a router, it's not hard to see that when people make that next router purchase they will go with the little white puck over the hulking pointy box.
You can buy one of the pucks for $129 or three for $299. They ship in December.
Likelihood of success for Google Wifi: High.
Conclusion
Quite a day. In one morning, Google has entered into the consumer hardware market in a very big way. Can it pull it off? We will have to see. We ran into the man who will be key to making it work: David Foster.
David is the man behind Amazon's Kindle E-reader. He has also worked at Apple, Microsoft and Gibson – yes, the guitar company. We asked him what he thought about this whole new array of hardware that he is going to have to lick into shape for the next few years.
"Well, the truth is you probably know more than me right now about these products," he told us. He was only formally hired by Google this week. "But this is exciting."
His plan for making it all work? "Well, we will listen to customer reviews. Find out what is working and what's not and fix it." The really hard work, he noted, will be in the 101 things that have to be done when it comes to hardware that no user will ever see or know about. "That should all be invisible to customers," he said.
So there you have it – Google is doing an Apple. That Steve Jobs philosophy of marrying software with hardware to make an overall better experience. It was nearly the death of Apple 20 years ago, but its time has come again.
This morning, we may have just witnessed another one of the enormous industry shifts that the tech world lives and dies by. ®