Artificial intelligence will eradicate channel drudgery, says Lenovo boss
Any intelligence would be a start, grumble partners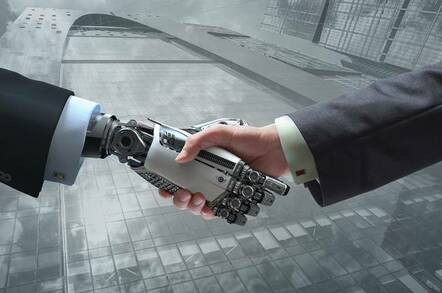 Canalys Channels Forum 2016 Artificial intelligence will make the tech channel a happier place by removing much of the tedious grinding interaction that poisons relationships between vendors, distributors and partners, Lenovo's boss claimed today.
Lenovo COO Gianfranco Lanci told the audience at Canalys Channels Forum that the firm was examining how to use emerging technologies to change the way it does business. "We are working on lot of things - big data and analytics, AI."
"You can think about how to run the company in a different way." Pressed as to what he meant, Lanci said the organisation was already shifting to chat, away from email, although this was not always possible, with some customers wedded to fusty old email. How 1990s.
Further ahead, he said, AI could start taking over some of the workaday, grinding tedious tasks that occupy much channel time – such as handling financing issues.
"We are spending too much time on reconciling, doing rebates," Lanci bemoaned.
"With new tech it will be much easier and simpler for us to fix all these things."
This would free up the humans, he said, to "think about how to work together to develop the business."
So far, so utopian.
If you asked many channel players what they thought about the idea of vendors using artificial intelligence, a typical response would be that just some human intelligence would be a start.
For all the talk about streamlining processes, as one observer at the sidelines told us, at its core, business is all about humans. And that's arguably even more so at the sharp end of the channel, which is based around personal relationships often going back years.
Of course, the thing about new tech, like artificial intelligence, is that people start tuning out the hype, then don't notice the small, incremental innovations that build towards a full-scale shift.
Still, a channel run by artificial intelligence? When competing AIs start showing off to one another by the quality of the driverless cars they're controlling, then we'll know we're there. ®
Sponsored: Webcast: Build the next generation of your business in the public cloud