Can you make a swarm of 20+ flying military robots? UK.gov wants you
Up to £80k on a platter for future Skynet overlords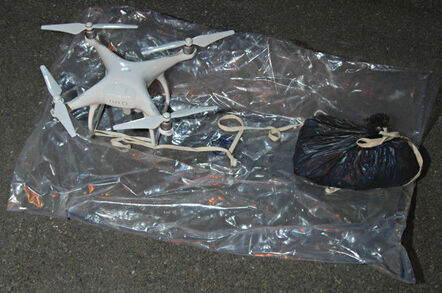 Defence boffins are running a competition to see who can develop a drone platform capable of running up to 20 UAVs "to achieve military effect across the electro-magnetic spectrum".
The Centre for Defence Enterprise, part of the Ministry of Defence, is running the competition, titled "Many drones make light work".
A public page about the competition states: "We want this competition to demonstrate how UK industry (particularly small and medium enterprises (SMEs) working with academia and primes where appropriate) working in partnership with the Defence Science and Technology Laboratory (Dstl) could rapidly deliver new military capability by exploiting emerging and innovative technologies."
Examples of uses for this military robot swarm include: tracking individuals; tracking vehicles; area mapping; area surveillance; and communications relay tasks.
Prospective bidders will "need to demonstrate how these platforms can be supplied and operated at a low cost and how they can integrate technologies from other suppliers in a cost-effective way". Are you listening, BAE Systems?
Drone swarm overlords-in-waiting should also be conversant with the European Component Oriented Architecture (concept document here, PDF), an open source military mission system software specification developed by the main European defence contractors – or "primes", in MoD-speak.
Worried that this is just another opportunity for wheelbarrows of taxpayers' cash to be shovelled into the usual suspects' pockets under the guise of an SME-friendly competition? Military boffins seem to have thought of this already and want to reassure potential bidders that the little guys are welcome too:
Your proposed technology could offer part of, or an important step towards, the solution to the challenge. We'll encourage you to collaborate in any follow-on phase-2 projects.
Refreshingly, they also say that they are not interested in offers of consultancy, paper-based studies or literature reviews, or "solutions that don't offer significant benefit to defence". PhD students looking for a project are also invited to look elsewhere.
Applicants should submit their proposals by 5pm BST on 3 November. The MoD is hosting a webinar at 12.30pm BST today about it all. ®