Portsmouth bomb about to be detonated
Watch out on the Isle of Wight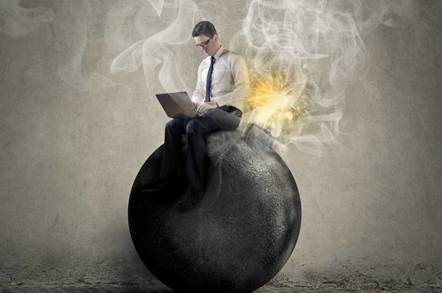 Dredgers clearing Portsmouth harbour in the UK have found yet another unexploded Second World War bomb.
The 500kg device meant Pompey's retail and chain boozer park Gunwharf Quays was evacuated at 11pm last night as a precaution.
The bomb is being towed out into the Solent where it will be destroyed by controlled explosion.
Dredging work has already uncovered a German mine, which was safely exploded late last year. An iron cannon, several anchors and tonnes of chains have also been removed. In the sixteenth century massive chains were laid across the harbour entrance which could be raised to defend against attack.
The harbour is being deepened and cleared to accommodate the new aircraft carrier HMS Queen Elizabeth next spring. Three million cubic metres of sand, gravel and sludge are being removed as part of refurbishment of the dockyard.
Portsmouth suffered 67 air raids between 1940 and May 1944, almost 1,000 people were killed and 10 per cent of the city's houses were destroyed.
Updated to add
Bomb disposal officers actually detonated the bomb at 7am this morning. The event was such a damp squib that they assumed it hadn't worked and returned for another go at 11am. They then discovered the earlier attempt had actually worked.®
Sponsored: Beyond the Data Frontier