Apple's Breaxit scandal: Frenchman smashes up €50,000 of iThings with his big metal balls
Fuming frenchie causes a oui bit of damage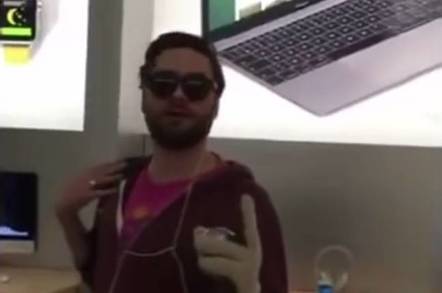 A French man has been charged after he stormed into an Apple store and smashed up iPhones and MacBooks using a metal ball that is more commonly used for the traditional game of pétanque.
On Thursday, the 30-year-old marched into the Apple store located in Toison d'Or shopping Centre in Dijon carrying the steel ball in a gloved hand. He was accompanied by someone videoing the scene, which suggests premeditation.
He then proceeded to pick up iPhones, place them flat on the counter, and smash their screens in using the ball.
While doing so he rails against the staff, claiming that he had bought a shiny new laptop from them that had failed and he wanted his money back.
While this was going on, staff stood around doing nothing and keeping clear. He then moved on to some MacBooks and carried on his smashing activities before a security guard finally turned up and escorted him from the store.
Once outside, more security guards appeared and surrounded the man. After a full and frank exchange of views, the attacker put his hands around the throat of one of the guards and the others piled in to restrain him.
The man has since been detained by police and is currently facing criminal charges. Dijon prosecutor Marie-Christine Tarrare said that the man had caused €50,000 worth of damage to the shop's stock.
Getting stiffed on a new purchase is never fun, but the gentleman involved should have taken a lead from we rosbifs and shown some sang froid. ®
Sponsored: Becoming a Pragmatic Security Leader