Oracle's Coach Larry needs Microsoft plays to beat Amazon
Best locker-room strategy: Avoid emulating AWS directly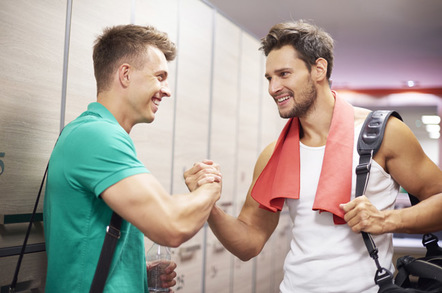 Analysis SAP. Crack! IBM. Snap! Salesforce. Bang! Workday, I can see you - come over here...
In the locker room that is Oracle's quarterly conference calls with Wall Street, somebody's ass is always on the receiving end of a sharp thwack from the towel of head coach Larry Ellison.
Ellison has zinged his verbal towel off many a noble corporate pair in his time. Before Salesforce on CRM as a service and Workday on HR, Larry's preferred targets were IBM and its Power architectures and Netezza and SAP on business applications.
And so it is that Jeff Bezos, the corporate freshman, has now become the target of Larry's team.
People got very excited when Ellison put the Amazon chief executive's AWS cloud in the firing line first during Oracle's recent first-quarter results and then again at Oracle's OpenWorld conference last week. Clearly a pattern.
AWS's lead in IaaS is over, says Ellison, over - you hear?
"We have a big competitive advantage over Amazon.com. And people will be buying our PaaS and our infrastructure as a service together," Ellison said.
Price and performance are the keys with that added Oracle preferred extra of "integrate stack."
Finally, Oracle vs. AWS. The battle we've been waiting for.
Should AWS worry? Can we now, finally, stop writing about AWS being the number-one provider of cloud, the juggernaut of cloud, and so on and so on?
Inevitably, Oracle thinks "yes". Reading the press from Oracle OpenWorld, Oracle has worked very hard to build a piece of technology it feels is better than AWS.
Non-stop updates and a "wider variety of operating systems" than the competition are also among the thrills. This is red meat: Amazon reckons to have released 634 new features and services for AWS so far in 2016. It also claims to have cut AWS prices 52 times between 2006, when the service launched.
If being more Amazon than Amazon were the answer, then Oracle should win.
But it's not the answer and Oracle won't win this way. Just ask Microsoft.
Late to cloud like Oracle, only less cavalier in so doing, Microsoft also waged a price war against AWS while it has almost fallen over itself to offer a multiplicity of technology choices that are not Microsoft – especially when it comes to Linux open-source running on its Azure Iaas.
As for engaging in a price war, that tactic was ineffective and Microsoft learned eventually to stop cutting – it never could beat AWS, which always managed to just that little bit further.
Rather, it took a massive reboot from Microsoft to build something that isn't "just" Redmond's cheaper version of AWS - and even then it only made industry number-two.
For all that, Gartner's veteran cloud-watcher Lydia Leong told The Reg last year that Azure was a lot better than it had been and had come a long way against AWS, though it still had a long way to go – "good enough" was the characterisation.
If we measure IaaS by revenue share, then AWS is number one by a long way in front and Microsoft a long way behind – and yet, it's Microsoft that is number two.
According to Synergy in August, AWS is on just over 30 per cent market share by revenue with Microsoft second on just over 10 per cent. Yes, that's the second-place contender. IBM and Google are third and fourth respectively. Oracle? That counts in the "next 20".
If it's a price war you do want, Oracle, then you've not gone far enough.
Leong says here that while Oracle has undercut Oracle's list price by 20 per cent, AWS's "real prices" - that include things like using reserved instances and custom discounts - are 70 per cent lower than Oracle. And let's not forget, price cuts eat into profits.
But if there is a lesson for Oracle then it is in the study of Microsoft.
Playing to its strengths
Let's assume Oracle really has built some superior piece of technology. The firm certainly has put in the work hiring former senior AWS engineers and staff working on Microsoft's Azure and Google Cloud Platform in the Seattle area.
The thing Oracle shares with Microsoft is customer accounts, and it's these that Ellison's firm can leverage and turn into paying IaaS customers. Microsoft gave up the price war against AWS to focus instead on flipping those in its not-inconsiderable customer base who already run workloads on Windows servers.
Microsoft turned to stuffing its cloud into enterprise agreements and had offered incentives to partners to on-ramp customers. Now, we understand, that's over. Now that Microsoft has the volume, it is cherry-picking for unique customer case studies it wants on Azure.
Oracle has a similar, not-inconsiderable customer base it can work through. Already, sources tell us, Oracle has been adding its cloud to licence deals.
And this is where AWS is weak, coming to the enterprise from the outside. The home-player advantage is given to the incumbent, Oracle. Surely.
Shaking that IaaS
So can Oracle haul ass and close the gap, to join the current pack of third-place players? Yes, but in the world of cloud, where the market is growing, everything is relative. So if AWS is growing along with the market, then it is also maintaining the gap. IaaS revenue for Oracle grew by six per cent in its first quarter, announced in June (11 per cent in constant currency) to $646m. During its second quarter, announced a month later, AWS reported 58 per cent growth to $2.9bn.
Of course, nothing is forever: AWS can stumble – indeed, Q2 was down on Q1, and growth peters out. But, to provide some context, those very successful SaaS providers such as Salesforce you hear so much about are growing at just half the rate of the AWS IaaS business.
The other big growth opportunity for Oracle is private and hybrid cloud. While it may be a dirty set of words among SaaS providers and cloud evangelists, the notion that organisations should not want to hand over their apps and data to a third party is almost as ridiculous as anybody wanting to run their own server hardware.
But they do want to pick and choose, and this hybrid approach has raised the prospects of VMware and OpenStack-based clouds.
Microsoft has recognised this and is, after years of promising, making its cloud available to run in customers data centres and on partners' hardware.
The Azure Stack – sliced from the Azure Service Fabric that runs Microsoft's own cloud – is to be made available, once finished, pre-installed on pre-integrated servers from Dell, Hewlett-Packard Enterprise and Lenovo. Other OEMs are promised to follow.
If this ever actually materialises, then it's a potentially good foot in the door to yet more customers' data centres for Microsoft's cloud and another flip of the Windows base. It's a plan that follows Microsoft's older programme of partnering to get Windows Server on OEMs hardware and, therefore, into customers' data centres.
However, this isn't really a good route for Oracle, based on its track record.
Oracle likes to sell what it calls an "integrate stack", which hitherto revolved around software, but which now also includes Oracle's hardware. Oracle last week doubled down on this, announcing more on-premises hardware employing its software in the form of Infrastructure, Exadata and Big Data Cloud "at Customer".
As with its software in the past, the cloud Oracle spent so much time building up in the Pacific North West has been tuned to run on Oracle's pipes, discs and backplanes.
Which is a shame, because Oracle's hardware business had been performing like a doorstop: total revenue falling by 10 per cent in its last fiscal year (five per cent in constant currency). Oracle will now try to add some lift in the shape of cloud software, but this is a faintly ridiculous idea. As ridiculous as Sun Microsystems' attempted to use Java and middleware to drive sales of Solaris servers, a strategy that contributed to Sun's eventual bargain-basement acquisition by, ahem, Oracle.
More than anybody, Microsoft has the customer base and partner muscle memory to really break out with Azure as a number-two to AWS.
Oracle shares that power, so it's almost inconceivable that it would not manage to see IaaS growth. For that to happen, Oracle would have had to do nothing, and nothing was what the firm deliberately chose to do seven years ago, when Ellison branded cloud as "insane", "idiocy" and "complete gibberish".
But Oracle never did beat SAP to claim the title of world's largest maker of business software as Larry Ellison had wanted.
IBM still sells Power and Netezza, and Oracle's hardware business sees shrinking sales. Salesforce and Workday? They continue to ride very, very high.
Competitor to AWS? That's probable, almost certain. But number two? Not for a very long time and not without some changes. ®
Sponsored: Minds Mastering Machines - Call for papers now open