Dell-EMC's dual server supply problem... is not a problem, it reckons
Converged server suppliers? Crack on, says senior soul Sakac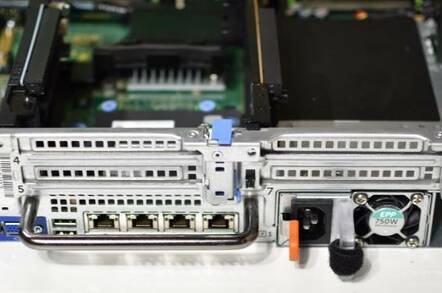 +Comment You might have thought it did not compute, Dell having its own in-house server operation for its acquired EMC kit to use while EMC's VCE operation uses Cisco server-powered Vblocks in its converged systems. But no, having a dual server supply is fine.
In a blog post, Chad Sakac, president of the Converged Platforms and Solutions operation at Dell EMC, says Cisco servers will continue to be used in Vblocks and VxBlocks, the Converged Infrastructure (CI) systems, while the hyper-converged infrastructure (HCI) products will use Dell PowerEdge servers.
We ARE (not WILL be) working behind the scenes to leverage the power of our Dell EMC family to welcome Dell PowerEdge Servers into our HCI portfolio soon.
Why?
On the server hardware front, Sakac says CI systems, with an integrated external storage array, need "the peak of blade system design with the most dense CPU/memory model" and he's fine with Cisco supplying that.
HCI systems, with no external storage array, need a rackmount as well as modular server design with dense storage, compute and memory components. Dell is providing the PowerEdge R-series for rackmount needs and the PowerEdge FX-series for modular needs.
Sakac believes that the hardware element "of the [HCI] system-level offer depends on having an awesome, fast, flexible, and cost effective x86 rackmount, modular set of systems, and an incredible supply chain," support model, and "configure to order" flexibility." Which Dell has.
He plays the why-fix-what-isn't-broken card: "It's a no brainer to ensure the continuity and strength of our CI leadership Vblock and VxBlock with Cisco UCS."
And implies Dell is better than Cisco for HCI because "it's a no brainer for us to combine PowerEdge servers with our HCI VxRack and VxRail offers to give our customers more choice, more configure to order, faster access to the whole Intel ecosystem, and ultimately better flexibility at a better price point."
Dell EMC is working to deeply integrate PowerEdge server design, roadmap, manufacturing, supply chain and support into the VxRack and VxRail products.
On the reference architecture front, we are told: "VSAN-Ready Nodes and ScaleIO-Ready Nodes, and validated systems – Dell EMC PowerEdge, Dell EMC Storage, and Dell EMC Networking will be at the heart of reference architectures, bundles, and validated systems."
Comment
Dell does have its own blade servers, which a Cisco white paper says are not as good as its UCS blades: "Dell has tried to implement this vision twice: first with the Dell M1000e blade enclosure and now with the Dell FX2 architecture. Meanwhile, the Cisco Unified Computing System is the only blade system on the market today that delivers "true unity computing" while also giving you choice. This document describes the benefits of the blade server vision and how Dell and Cisco measure up to the vision."
Conversely, a Dell document (PDF) says its own blade servers outperform Cisco gear.
We might suppose there are no substantial technical obstacles to Dell servers being used in the Vblock and VxBlock CI systems, but it suits both Dell and Cisco from an enterprise selling and support point of view to continue with the battle-hardened, successful and proven VCE operation.
El Reg would also like to gently point out that Dell EMC's Vblock and VxRack CI offerings are based on VMware. It's not inconceivable that Sakac's operation could develop Hyper-V virtualisation-based HCI and CI offerings. These could use Dell server and networking technology in both the CI and HCI categories.
Cisco's sales reps for Dell EMC must know they face a continuing threat of Dell servers being used instead of Cisco UCS boxes in the future. They have a continuing mountain to climb. ®
Sponsored: Practical tips for Office 365 tenant-to-tenant migration