Surprise! Leading 4-socket server vendor isn't Dell or HPE
Chinese market is growing fast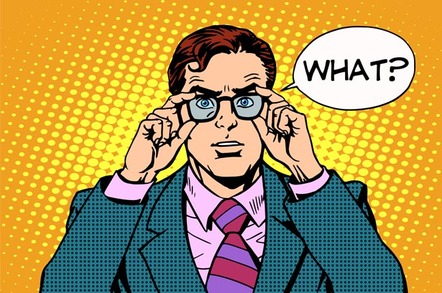 Gartner gave the 4-socket server market lead to a surprising vendor in its recent worldwide server market report*.
Huawei is telling everyone it's the 4-socket server number 1: "Huawei scored a year-on-year (2015 Q2 and 2016 Q2) growth rate of 150.17 per cent with its x86 4-socket server shipment volume, which ranked first in the global market."
It says mainframe and the non-X86 mid-range server markets are shrinking, with X86 servers taking over the mid-range. That spells opportunity and Huawei has launched servers with four, eight, 16 and even more sockets. It announced KunLun, the world's first 32-socket, X86 server in March, saying it was for mission-critical app use.

Huawei 32-socket Kunlun server
In the overall server shipment stakes, Huawei was not so prominent, racking up the number four position by units shipped, with a 5.1 per cent share, up 14.1 per cent year-on-year, against a backdrop of the market growing just 2 per cent. That's not particularly impressive though, not when compared to Inspur's 46.8 per cent growth.
If Huawei keeps on growing at this rate then it could overtake Lenovo and be set to challenge HPE.
Three of the top five server vendors are Chinese, and represent 18 per cent of the market, which surpasses HPE's share.
Huawei wants us to know that its rack-optimised and rack-blade servers' shipment volumes both ranked number 1 in the Chinese market in the second quarter.
This Chinese market is growing so fast it could drive Chinese server vendors to the top of the unit ship and revenue rankings in a couple of years. Won't that be an unwelcome development for Dell and HPE?
It also prompts the thought that Cisco's UCS server shipment numbers are not growing that fast, and that Cisco is a bit-player server-wise.
Here's Gartner's overall table of server unit ships by vendor; note HPE's loss of share (-18.7 per cent) y-o-y. Everyone else grew share, including - just - the "Others" category.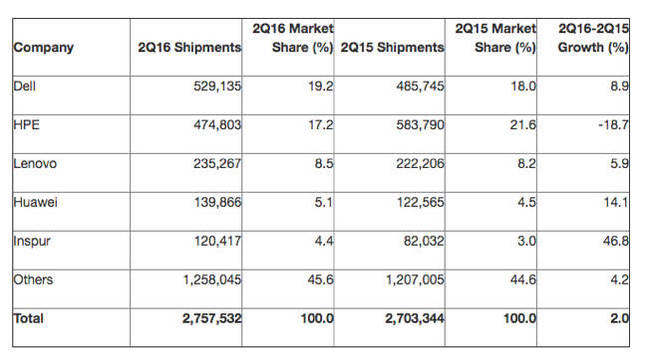 ®
* Gartner "Market Share: Servers, Worldwide, 2Q16 Update," 12 September 2016.