Colour us shocked: Dell EMC rules converged systems like a boss
VCE and VSAN very very virtuous for newly joined duo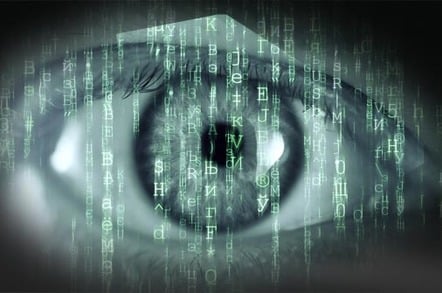 Dell EMC rules the converged systems roost in IDC's latest storage tracker converged systems revenues in the second 2016 quarter.
The market amounted to $2.9bn and grew 12.1 per cent year-on-year (y/y). IDC's beancounters cut converged systems into four categories:
Integrated Systems - pre-integrated, vendor-certified combos of server hardware, disk/flash storage arrays, networking equipment, and basic element/systems management software – think VCE.
Certified Reference Systems - pre-integrated, vendor-certified systems like Integrated Systems but designed with systems/components from multiple technology vendors – think FlexPod.
Integrated Platforms - integrated systems plus pre-integrated packaged software and customised system engineering for application development software, databases, testing, and integration tools – think Oracle engineered systems.
Hyper-converged Systems - collapse core storage and compute functionality into a single, highly virtualised solution with all compute and storage functions provided through the same server-based resource scheme – think Nutanix.
IDC tabulates the results with its first table looking at VCE and Flexpod-class products:
This was the bulk of the market with 54.8 per cent of the revenue; $1.6bn, up a sluggish 4.7 per cent y/y. Only EMC (now Dell), Cisco/NetApp and HPE are singled out, with everyone else in the others category, amounting to just 12.7 per cent if the market.
Cisco/NetApp outgrew everyone else at 16.3 per cent y/y, and the others category shrivelled 15.3 per cent y/y as the top three consolidated their hold.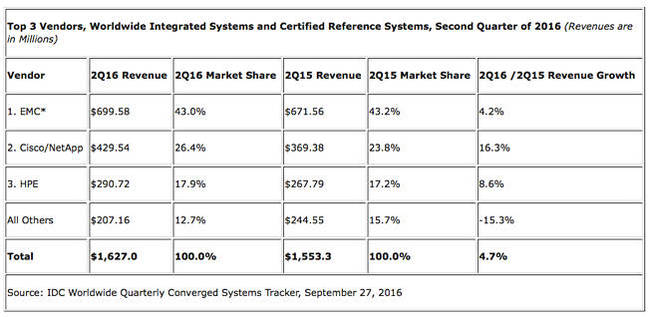 The next table is Oracle-class integrated platforms:
Oracle dominated with a 55.8 per cent share, HPE being much smaller at 9.8 per cent and IBM trailing with 5.1 per cent. The "others" category has 29.3 per cent. As no one is singled out in it, that must mean they all have less than IBM's 5.1 per cent share. HPE's growth rate was an astonishing 178.4 per cent, with Oracle flat y/y at -0.2 per cent and IBM doing badly with a 44 per cent revenue fall.
The "others" category fell 16.5 per cent y/y, indicating top supplier consolidation is rampant here too.
So … the really interesting part: how is the hyper-converged market doing?
It grew at 137.5 per cent y/y to $480.62m in revenue, 16.2 per cent of the total market revenue, and about the same as Oracle's integrated platform revenue – just beating Cisco/NetApp integrated system/certified reference system category revenue. Irritatingly, IDC does not publicly break out the top suppliers' revenues. You'll have to buy the report to get that level of detail.
IDC does show a bar chart of how the four sectors of this market have been changing over the past five quarters: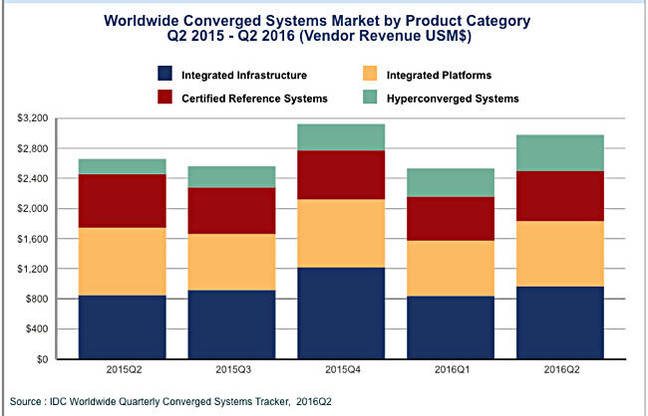 This doesn't tell us much new; the hyper-converged category is growing fastest and could/should overtake integrated platforms by this time next year, and maybe certified reference systems as well. ®