Google cranks out new developer center in San Francisco – inexplicably, we were at the opening
Sustainable biz, welcome – the rest of you, not so much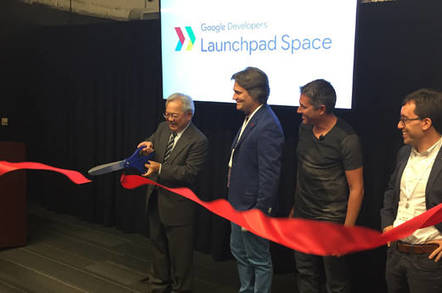 Google has opened a 14,000 square foot developer space in the heart of San Francisco to encourage the next generation of startups to use its products.
The space takes up a whole floor on a newly renovated building in the city's SoMa tech hub and represents a big shift for Google away from its Silicon Valley campus 35 miles south. San Francisco's mayor Ed Lee was there to formally open it on Tuesday night.
The idea, according to the head of Google's "global developer ecosystem" David McLaughlin, is to have a permanent space in the city that will help developers take pet projects and turn them into sustainable businesses.
It will also act as the home of Google's Accelerator program that pulls just under 50 startups a year from all over the world to work with Google staff for an intensive two weeks. The rest of the time, the space will be used for developer user groups, talks, seminars and so on.
Despite many expecting 2017 to be the year that the tech boom deflates, McLaughlin said it was the "right time" for the new space because he sees a number of new technologies "cresting." "In IoT [internet of things], AI [artificial intelligence], and machine learning, there has never been a better time to develop," he argued.
Although Google says that developers won't have to stick to Google platforms – it points to the fact that the Firebase mobile platform works with Apple's iOS – the reality is that investment in the new space is to ensure both that new startups build with Google's tools and that the company gets outside feedback.
VP of Google's developer products group Jason Titus said of the space: "Tech is moving at such a high pace that this will represent an opportunity for developers to get in-person training and hands-on experience. And for us, we will get feedback on our platforms and our products."
Entry requirements
It's not going to be a free-for-all, however. In keeping with Alphabet's new focus on making sure that everything the company does is on the path to making money, Google will screen startups to find those that they believe have the best likelihood of becoming a "sustainable" business, ie: make a profit.
The head of Google's Accelerator program Roy Glasberg said the web giant looked for three things before approving access to its people (and covering the cost of them flying to and living in San Francisco): product/market fit (Marc Andreessen's little definition) – of which investment by VCs was a good sign; a solid team that can work together well; and the ability to have a clear impact on their market within three years -–with that market often being outside the United States. In keeping with the Alphabet profit focus, he also tacked on a "strong business model."
Why San Francisco and not Palo Alto or Mountain View? Because of the "higher density" of developers in the city, or in other words, because only people working in big tech companies spend any time in the Valley these days.
According to McLaughlin, it won't just be tech people from Google giving talks and seminars: a good number of "mentors" will come from outside the company and topics addressed will cover everything from marketing, monetization, learning how to hire top talent, and building business processes.
In short, Google is hoping to find and support the best startups in the city and nudge them toward its products.
As for mayor Ed Lee, who turned up to officially open the space, he's hoping Google and its developers will find a solution to his biggest peeve: congestion.
The new building is sat directly opposite the city's new Transbay Transit Center – a huge $6bn project that hopes to become the "Grand Central Station of the West" and should be completed in 2017.
Its construction for the past few years has however turned the city's downtown traffic from bad to impossible, to the extent that Lee told attendees that he decided to walk to the event rather than drive.
So if any developers out there have some radical new ideas for how to improve city congestion and want to build them on top of Google's platforms – well, it's your lucky day. ®