Argos tech team updates iOS app with helpful info on 'eleventy-billion toilet seats'
Sky hooks, tartan paint ... U wot m8?
Strange things are afoot among the developer team at Argos, it's just not clear if an ill-judged lunchtime trip to the boozer, hijincks related to the recent £1.4bn takeover by Sainsbury's or a rogue staffer are to blame.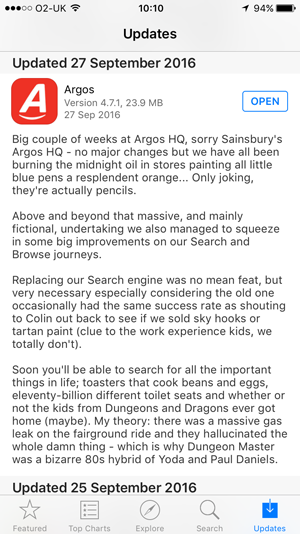 Screengrab from the iPhone of a gentle Reg reader...
The iOS Argos app, updated on 25 September, stated employees had been "burning the midnight oil in stores painting all the little blue pens a resplendent orange… only joking, they're actually pencils.
"Above and beyond that massive, and mainly fictional, undertaking we also managed to squeeze in some big improvements on our Search and Browse journeys," it added.
Updating the engine was no small task "but very necessary especially considering the old one occasionally had the same success rate as shouting to Colin out back to see if we sold sky hooks or tartan paint".
So life might just get a little easier for consumers who like to keep a foot in both 20th and 21st century shopping experiences – who like to order stuff online and then stand in a queue to pick it up.
"Soon you'll be able to search for all the important things in life; toasters that cook beans and eggs, eleventy-billion different toilet seats and whether or not the kids from Dungeons and Dragons ever got home.
"My theory: there was a massive gas leak on the fairground ride and they hallucinated the whole damn thing - which is why Dungeon Master was a bizarre '80s hybrid of Yoda and Paul Daniels."
Lovely stuff.
We have asked Argos to comment but have yet to hear from the press office... the sale of Argos parent Home Retail was completed on 2 September so maybe they, like the app team, are still in high spirits. ®