Apple wants to buy Formula 1 car firm McLaren – report
Project Titan + F1 supercar brains + ??? = profit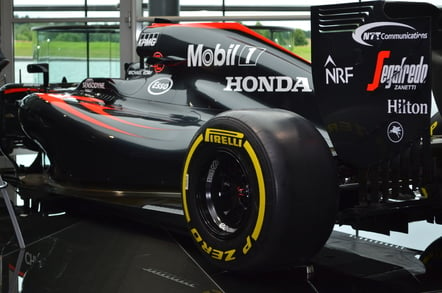 Updated Apple, the reassuringly expensive maker of iThings, is reportedly trying to convince Formula One racing car firm McLaren's execs to fall into line with a buyout.
The Financial Times this afternoon claimed Apple is considering "a full takeover of McLaren or a strategie investment", citing three people familiar with the negotiations.
As the Pink 'Un noted, buying or making a big investment in McLaren would allow Apple to make some serious headway on its seemingly stalled Project Titan electric car.
Central to that deal would be McLaren's skunkworks, its Applied Technologies division. This churns out high-end electronics and telemetry gear for a variety of motorsport teams and companies, as well as bespoke software packages.
Its publicly-advertised software products include: the Advanced Telemetry Linked Acquisition System (ATLAS); SQL Race, an API for MS SQL Server customised for handling the vast amounts of data generated by F1 cars; and vTAG, a PC framework for fast analysis of complex models using telemetry data. For the latter, one suggested use case is simulating "a car or powertrain in order to supplement measured parameters from sensors with virtual sensor readings."
All of these would be very useful to, say, a company trying to develop a viable self-driving electric car of its own – and Apple is very careful about keeping as much of its mission-critical IP as possible in-house.
Earlier this year we reported that Apple may be working on embedded self-driving software instead of a complete car, and it emerged some months ago the fruity firm took on QNX co-founder Dan Dodge.
McLaren Technology is currently owned by Ron Dennis, its chairman, one Mansour Ojjeh, and the sovereign wealth fund of Bahrain. The group posted a pre-tax loss of £22.6m in 2014, its last publicly filed accounts, though it was modestly profitable in the few years before that.
McLaren had not responded to emailed enquiries by the time of publication. We have asked Apple for comment, but, as experience has shown us, there's no point. ®
Updated to add
McLaren is denying everything. A spokesperson told El Reg: "We can confirm that McLaren is not in discussion with Apple in respect of any potential investment. As you would expect, the nature of our brand means we regularly have confidential conversations with a wide range of parties, but we keep them confidential."