Intel drafts in troubleshooting veteran for CFO slot
Swan righted EDS Navy, drove Webvan...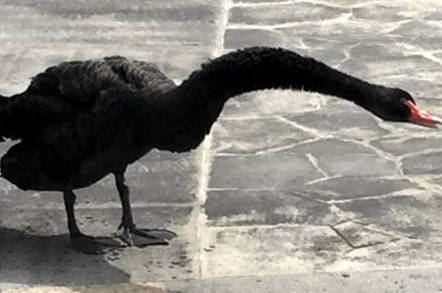 Intel has hired veteran tech CFO and sometime troubleshooter Bob Swan to take over from long-time numbers supremo Stacy Smith.
Swan, or to give him his full press release name, Robert "Bob" H Swan, joins from equity outfit General Atlantic, where he was an operating partner. Stacy Smith, "as previously announced, is taking a broader role within Intel leading manufacturing, sales and operations."
Before his stint at General Atlantic, Swan spent nine years as CFO of eBay.
That's a fairly chunky job, but equally interesting from our point of view was his stint at EDS in the early noughties. Swan joined EDS after the previously solid as a rock firm had issued a shock profit warning after its 2000 $6.9bn Navy Marine Corp Intranet deal unravelled.
Swan was brought into steady the ship, after the deal blew a massive hole in the services firm's finances. Just an example, in Q1 2005, EDS reported that on that contract it made a loss of $57m in the quarter on revenue of $166m, down 27 per cent on the year.
In fact, Swan steadied it so well, that after he left in 2006 to take up the CFO job at eBay, the firm was in a reasonable enough state to sell itself to HP for $13.9bn.
We'll just gloss over Swan's stint as CFO of Webvan, one of the mega disasters of the original dot com boom, and "Bob's" first foray into the world of tech after spending over 20 years learning the ropes at GE.
Intel's financial performance has been slightly erratic over the last couple of years as it deals with the changing shape of the computer, server and mobile industries.
It's nowhere near being the sort of basketcase EDS or Webvan was. But we're guessing Swan isn't joining just to keep things ticking over. ®