Avere builds on-premises object store all smothered in NAS
Tasty? NASty? You decide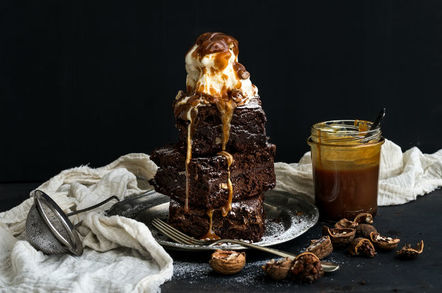 NAS accelerator and cloud storage gateway shop Avere has got itself its very own on-premises NAS system wrapped around an object storage core with a passage to the public cloud.
Up until now, Avere has focussed on accelerating data access to on-premises filers and, latterly, cloud or object stores. Now it is providing its own on-premises object store, albeit with a NAS wrapper.
The Cloud-Core NAS (C2N) system presents a NAS interface and not an object storage one, not even S3. It has three components:
FXT all-flash performance tier with automatic caching.
MX100 management node in 1U box.
CX200 core filer/storage node in 1U box with 12 x 10TB hot-swap disk drives.
At least one MX100 is required, with two needed for high availability.
The object storage provides triple replication (TR) and erasure coding (EC), plus geo-dispersal for disaster recovery. The minimum TR configuration has three CX200 nodes with 120TB of usable capacity plus an MX100 node. This is the entry-level, Avere making the point that some object storage systems start at the vastly larger, and costlier, 1PB capacity level.
A minimum EC config has six CX200 nodes with 450TB of usable capacity, together with the MX100 controller.
The system grows in 120TB raw/75TB usable capacity increments to more than 5PB of usable capacity. (Usable capacity is based on 4+3 erasure coding where 5/8 of the capacity is usable, therefore 120TB x 0.625 = 75TB.)
The FXT tier scales from 14TB to 480TB of SSD capacity, the maximum FXT5600 cluster configuration. Clustering provides performance scaling and high availability.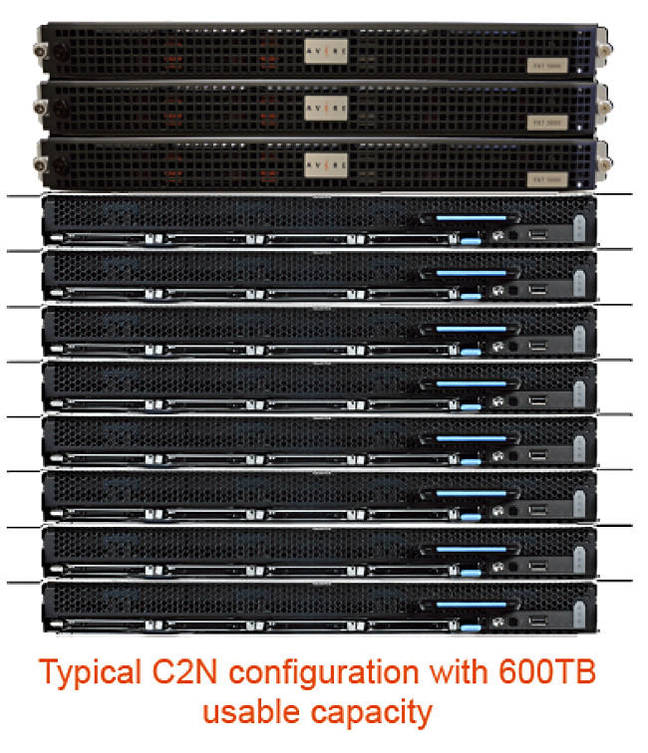 C2N system with 3 x MX100s on top and 8 x CX200s below
The NAS feature set includes:
NFSv3, SMB2, multi-protocol support.
Snapshots.
Global namespace across on-premises (private) and public cloud.
Data migration between NAS and private/public cloud.
Mirroring.
Compression.
Encryption with keys managed on-premises.
GUI and storage analytics.
There is optional FlashMove for data migration and FlashMirror for disaster recovery.
Avere says a typical use case has NAS for tier-1 data, CX200 (private object store) for tier-2 secondary data, and the public cloud for tier-3 archival data.
According to Avere, the C2N provides a private cloud facility and has a clear oath to the public cloud. It "allows enterprises to create a simple and flexible hybrid cloud, managing an entire heterogeneous infrastructure as a single, logical pool of storage."
Avere C2N System is available immediately and the list price for model CX200 starts at $99,500. No doubt, if it is successful, other models will be forthcoming. ®