Going, going, done: Trio of prolific auction fraud fraudsters jailed
Can't put a price on porridge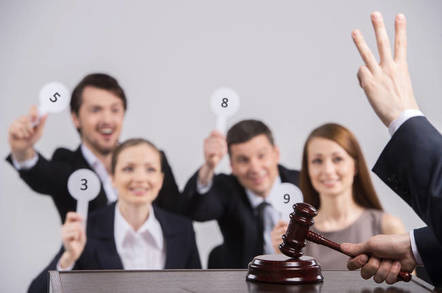 Three men have been jailed yesterday over a conspiracy to commit internet shopping fraud scam that involved taking payments for non-existent goods and services.
Calin Serbenescu, 28, a former labourer, was sentenced to five years' imprisonment; Ionut Cotavian Anitescu, 26, unemployed, was sent down for three years; while Dorel Grigorescu, 29, was jailed for two years.
Serbenescu, Anitescu and Grigorescu, who are all Romanian nationals, acted as part of a wider international criminal fraud network that involved online marketplace fraud - with a sideline in CEO fraud, as explained in a police statement.
The method of fraud employed by the gang involved advertisements being placed for a variety of goods and services via well known online marketplace sites. Those purchasing items made payment for goods that would never be received. Goods offered ranged from cars to family holidays.

In addition, the gang also infiltrated business accounts of legitimate businesses and contacted their clients to request that payments be made into fraudulent accounts opened by the gang instead of the company's legitimate bank account.
Serbenescu acted as banker for the group, organising phishing mules who opened bank accounts using counterfeit documents in order to receive the proceeds of fraudulent transactions. More than £1m flowed into these accounts.
Anitescu and Grigorescu served as phishing mules, each of them opened numerous bank accounts in furtherance of the scam.
"Between October 2014 and December 2015 Anitescu opened 26 bank accounts each in a separate identity… The 26 accounts were opened to launder the proceeds of internet frauds valued at £244,305," according to police. Grigorescu opened 12 bank accounts used to launder the proceeds of internet frauds values at £107,454.
It seems the pilfered funds are long gone, however.
Detective Constable Chris Collins of Falcon, part of the Met's Organised Crime Command, said: "These defendants form part of an international organised crime network. Their victims, who are many in number, paid money in good faith for goods and services that would never materialise. I hope that today's sentences bring a measure of comfort to those victims." ®
Sponsored: Becoming a Pragmatic Security Leader