Apple iPhone 7 launch hysteria? Not in Viking land
Danish fanbois shun birth of latest Jesus mobe... to queue, or not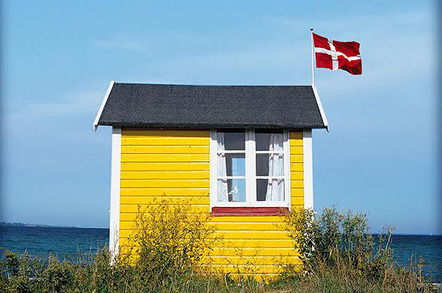 The traditional hoopla around the latest iPhone upgrade seemed to go off as planned last week with queues of apparently sane people waiting outside Apple stores around the world.
UK queues were well down on recent years, partly due to restrictions which meant only pre-ordered phones were available to collect. Orchestrated queues usually only appeared outside Apple stores – you could usually walk straight into an O2 shop and pick up the phone without being photographed or high-fived by over-excited staff.
But word reaches Reg Towers that the people of Viborg in Denmark have let the side down. Despite signs, deckchairs and balloon arches, only two rather embarrassed looking lads bothered turning up to the most exciting launch event since the iPhone 6.
A black shirted Apple Genius was not deterred and fired the traditional confetti cannon over the bemused queue of two who duly shuffled into the shop.
Luckily local news channel TV/MIDT VEST was on hand to record the scene.
A survey from Piper Jaffray, presumably of a larger crowd, found 98 per cent of those queuing, and willing to answer questions, already owned an iPhone and were looking for an upgrade, two per cent were switching from Android. ®