Former comms minster Stephen Conroy to leave Parliament
'The NBN is my greatest contribution' says senator in speech detailing trolling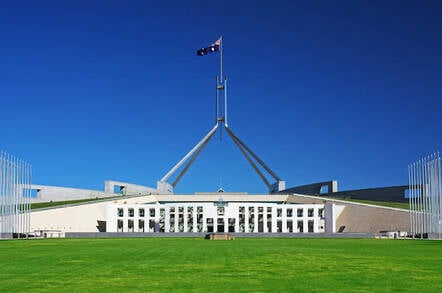 Stephen Conroy, the Australian Labor Party Senator who proposed a fibre-to-the-premises (FTTP) national broadband network (NBN) for Australia, has announced he will leave the Parliament despite being re-elected for a six-year term just two months ago.
"When you resent being in Canberra because you are missing your daughter's soccer training it is time to retire from the Federal Parliament," the Senator wrote in a speech he placed on the record but did not deliver in the Chamber.
Conroy has, of late, been the centre of controversy after his offices were raided by the Australian Federal Police seeking material thought to have been stolen by nbnTM, the company building the NBN.
Conroy's speech does not mention those raids. It is hard to imagine his departure has much to do with them, as a sitting senator can access legal and other resources far more easily than a private citizen. Reports also suggest that his Parliamentary colleagues were unaware of his departure, making it unlikely he was tapped on the shoulder and asked to go.
Conroy's last speech quotes his first, in which he said "The Labor Party's next challenge is to confront the changing structure of Australia's work force. Technological change is forcing the pace as more people work part time and from home. A new type of poverty is beginning to emerge and its impact will need to be assessed carefully. We are seeing a growing gap between the information rich and the information poor."
That first speech went on to ask "How do we ensure that all Australians have access to the information carriers that will revolutionise the way we learn, work and enjoy ourselves? More practically, what can we do to make sure Australians have the skills and back up they need to be leaders in developing and providing these new technologies?"
Conroy therefore rates the NBN "my greatest contribution."
His departure speech also offers this observation on politics in the age of the Internet:
"The internet has been a boon for communicating with family across the globe but it has its downsides too.

After a few years I had to ask my dad to please not use his name on blogs if he was going to vigorously participate in political debates online as his comments could be taken out of context and used against me in Parliament or by journalists. His paternal instinct was strong and he was always keen to correct the many inaccurate comments about me.

At one stage when I was a Minister there was a particularly vigorous online debate about a policy I was advancing. The full force of the internet trolls was raining down and my staff were monitoring the commentary which was very unflattering.

They came to me proudly to show me at least one person was defending me staunchly in the face of the abuse. The looks on their faces after they handed me the printed versions and I explained that Derek Green was actually my uncle and even worse he lived in England and could not vote for me, was priceless. Even from half way around the world the Conroy/Clements clan still loyally stick together.
Perhaps that "particularly vigorous" debate was over the internet censorship plan Conroy championed, but later abandoned.
Conroy was also controversial for his recent very forceful criticism of the multi-technology-mix policy that replaced his own FTTP plan, as the senator sometimes became quite agitated and perhaps a little un-Parliamentary in committee hearings.
He entered Parliament in 1999 and served as Minister for Broadband, Communications and the Digital Economy and Minister Assisting the Prime Minister on Digital Productivity.
Australian Parliamentary rules mean the Labor Party can nominate his successor. Conroy's position as an influential figure in the Party's factions mean he will likely have some say in deciding who assumes his seat. ®
Sponsored: Webcast: Build the next generation of your business in the public cloud