First Dell EMC product is a VSAN-in-a-can, aka 'ScaleIO Ready node'
Flashy software-defined storage packed into rack-mount servers, but no new bezel design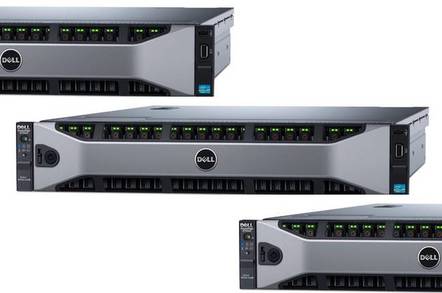 EMC and Dell only became Dell EMC last week, but they've already managed to squeeze out a product.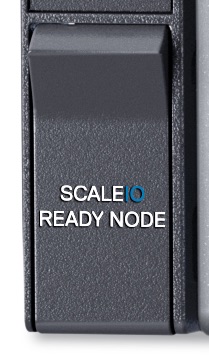 No new bezel, but ScaleIO gets some space
on the On/Off switch. Or did it?
The new offspring is the ScaleIO Ready Node, 13th-generation PowerEdge servers optimised to run the former EMC's ScaleIO software-defined block storage code. To build a ScaleIO rig you need to start with three of these bad boxen, but you can keep going until you hit 1,000 in one logical array.
Dell EMC's Hardware Specification Sheet (PDF) lists all-HDD, hybrid and all-Flash configurations, but to hit the upper limit for storage capacity of 46 terbaytes per node you'll need to go all-Flash in a 24 x 1.92TB configuration. Broadwell Xeons, 12GB/s SAS interfaces to disk and four 10GbE ports round things out.
The Register's storage desk is on holiday this week, but our virtualisation desk doesn't think he'd find this product particularly startling because it's the sort of thing Dell cooks up when partners ask nicely. The blurb for the product perhaps reveals a little more about what's really new: one-throat-to-choke support from Dell EMC.
The illustration at the top of this story (here for mobile readers shows the product and the fact that Dell EMC hasn't had time to cook up its own bezel, which is a bit disappointing for those hoping a new LogoWatch story to flow from the new company's first joint effort.
The smaller image at right (or here) shows Dell EMC has at least applied some ScaleIO branding to the box. Or has it? Might zooming in on the very large box shot at EMC.com suggest the ScaleIO text – ahem – a little digitally-enhanced? ®