Songsmiths sue US antitrust over Google-friendly rules ruling
Name ex-Google antitrust guru in suit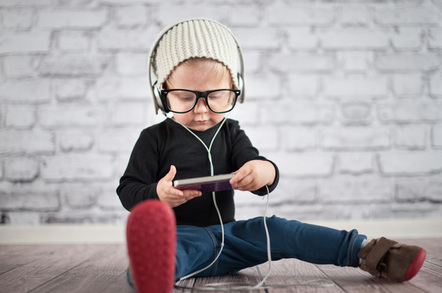 Two independent women songwriters are suing the US antitrust department of the Department of Justice over its proposal to rip up songwriters' contracts to make them more Google-friendly.
Crucially, in the remarks, the DoJ proposes that both ASCAP and BMI must accept 100 per cent licensing – so Spotify and other giant music licensees only need to negotiate with one songwriter (or their rep), without bothering to check with named co-writers.
The lawsuit argues that the DoJ overstepped its authority in its plan, and also names as defendants both the Attorney General, Loretta Lynch, and acting assistant A-G Renata Hesse, who for some years worked on antitrust issues for Google, a client of her then employer, law firm Wilson Sonsini Goodrich & Rosati.
As deputy attorney general at the DoJ and head of its antitrust division, Hesse is the architect of a proposal to compel songwriters to hand over their rights. The so-called "100 per cent licensing" proposal ensnares not just US songwriters, but British authors and composers too.
"I did a lot of work for Google on [antitrust]," Hesse admitted in 2008. Critics see the DoJ's desire to rip up songwriters contracts as part of a broader trend, in which the Obama Administration appointed Silicon Valley-friendly officials and Obama supporters in key regulatory posts at the FCC and the FTC, nominally "independent" agencies that report to Congress.
A data analytics firm founded by Eric Schmidt, a major Obama donor in 2008, helped Obama get re-elected in 2012, and Schmidt himself was in the "war room" on Election Night. President Obama has expressed a desire to become venture capitalist after he steps down in January 2017.
Song licensing in the US – take now, pay later...
To understand why the lawsuit has been filed requires understanding how song licensing works in the United States, and that's so complex and unusual, explaining it under a few thousand words is a thankless task, with inevitable over-simplifications. But basically, Silicon Valley wants to pay songwriters even less than they do now, by co-opting them into a new licensing regime.
Today, thanks to a historical quirk, labels and performers get nothing from radio play. For songwriters, it isn't much better. A government-supported compulsory licensing regime means a user can take the rights but negotiate a price later.
Imagine you operate a supermarket with no checkout tills, where the punters can walk out the door stacked with groceries, and only need to "offer" a price of their choosing when they get home. The punters can also drag out negotiations for the groceries for many years, so in reality, little or no money ever changes hands. A system in which a property owner can't set the price for their property doesn't sound very American, which is supposed to exemplify capitalism red in tooth and claw. So how did this happen?
It's actually a historical hangover of an era when radio waves covered the heartlands of this vast country quicker than politicians could. Radio was local, and radio stations, particularly religious broadcasters, could make or break political candidates.
So Congressmen owed them a huge favour by the time they got to DC, and lived in constant fear of the broadcasters. This meant that Big Radio out-muscled the cottage music industry (still largely based around publishing) when it came to settlements.
In 1941, Congress passed antitrust rules (Consent Decrees) that strictly regulated the non-profit agencies for collective music licensing, ASCAP and the BMI, which couldn't refuse a licence.
But this only applied to fully owned songs. Song compositions often have multiple ownership. (You can add a verse to Hey Jude, and the publishing of the subsequent recording will be owned by "Lennon-McCartney-you").
In 2014, ASCAP and BMI asked the DoJ to relax the regulations, so they could negotiate a better deal with the tech companies using the music they represented. Deputy AG Hesse delivered the opposite. Her "100 per cent proposal" opts in songwriters who aren't represented by ASCAP or BMI. This brief table illustrates the complexity that ensues.
And these whiteboards by David Lowery illustrate the political economy: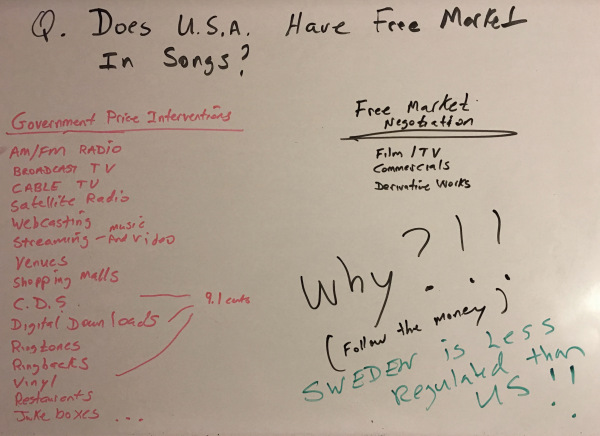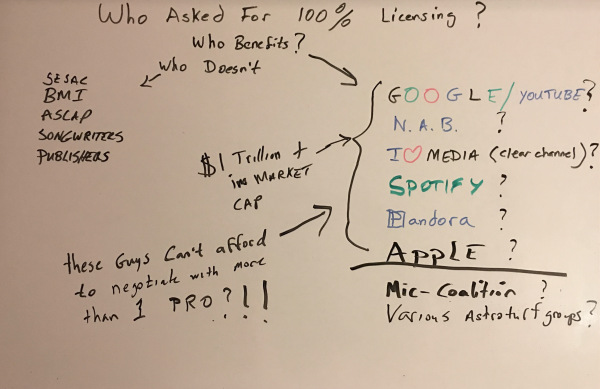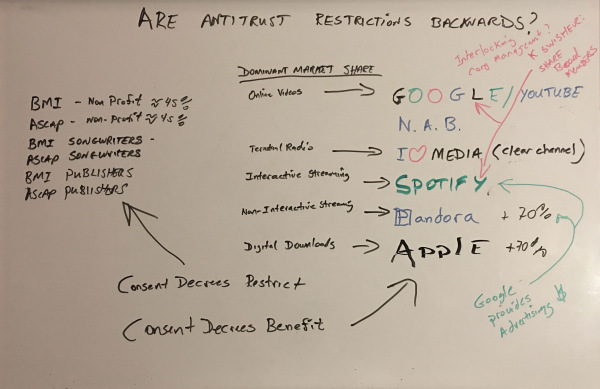 The "100 per cent proposal" is opposed by the US Copyright Office (PDF) and the Governor of Texas (PDF), a state where songwriters are popular heroes.
The lawsuit
The three songwriters who filed the suit are Michelle Lewis, Pam Sheyne and Tom Kelly, on behalf of Songwriters of North America, a grassroots organisation Lewis helped form a year ago. The lawsuit argues that the US DoJ violates the songwriters Fifth Amendment rights by removing their property rights without due process, the New York Times reports.
The DoJ's Google-friendly licensing plan has many parallels with the FCC's desire to disaggregate cable TV, in the name of "opening the box". Both initiatives make it easier for Google and large tech companies to use other people's stuff in any way they want. But the music licensing differs in one very interesting way.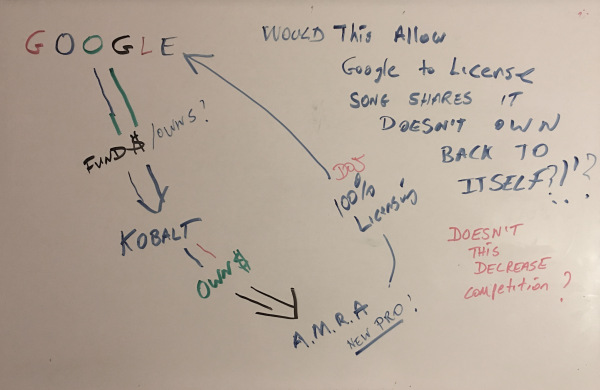 Google effectively operates a music licensing agency, called Kobalt. By getting in a regulatory fix, Google would benefit its own subsidiary and constrain the power of BMI and ASCAP.
From a distance, the optics look terrible. The power of government is used to change the rules to empower Big Business (Google included) and cripple smaller rivals. But in the final days of the administration of VC-to-be Obama, no one seems to care how sleazy things look.®
The lawsuit, SONGWRITERS OF NORTH AMERICA et al v. UNITED STATES DEPARTMENT OF JUSTICE et al, was filed in the United States District Court for the District of Columbia, case number 1:16-cv-01830.
Sponsored: Becoming a Pragmatic Security Leader