Student charity's ex-IT boss in the cooler for stealing $1.3m through fake tech contracts
Shameless exec invented companies to pocket invoices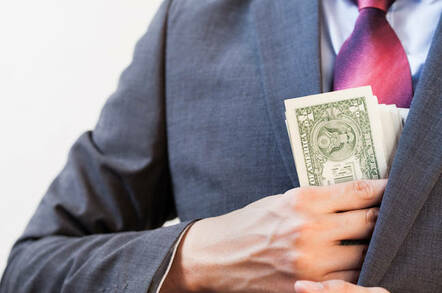 A former IT executive has been ordered to spend the next 45 months behind bars after he stole $1.3m from a charity in Virginia, US.
Demetrius Arnold Washington, 51, of Louisa, must also pay back the mountain of dosh that he funneled into his pockets via bogus tech consultancies. He was jailed after pleading guilty to mail fraud and money laundering in the Virginia Eastern District Federal Court.
US prosecutors withheld the name of the ripped-off charity, referring to it only as "Foundation #1" in court documents. However, The Register has learned that Washington was working for the Jack Kent Cooke Foundation, which was created using money left by Los Angeles Lakers and Washington Redskins owner Jack Cooke when he died in 1997.
The charity pays for college tuition and scholarships for hard-up kids. Washington – who graduated from Bowie State University in 1992 with a degree in computer science – was lauded by the foundation as an industry veteran and technology expert.
Unfortunately, he was an expert in something else: fraud.
According to investigators, Washington – who was on a $167,000-a-year salary – took the $1.3m from the education charity during his employment between 2011 and 2015. Using his role as chief of information systems, Washington told the foundation the money was going to fulfill various contracts with IT service providers.
In reality, the DoJ said, Washington was pocketing a cut of the invoices, and in some cases directing the funds to fictional companies he owned.
Among those companies was a supposed IT company called DAJX-IT Consulting. Washington himself created DAJX-IT and used the biz to bag multiple IT contracts, then funneled payment into his own pockets without finishing the jobs.
"Washington concealed his relationship with DAJX from the Foundation and used DAJX to submit fraudulent invoices to the Foundation for work which was never completed, using names of friends, relatives, and acquaintances who had never heard of DAJX or completed any IT work," prosecutors said after sentencing on Friday.
To cover for the ruse, Washington created a fake identity for DAJX's "president" to use for communication with other members of the foundation.
In another instance, Washington billed the foundation double for services provided by a legitimate contractor, then paid that contractor the original amount and pocketed the other half for himself.
In addition to the 45-month sentence and restitution, Washington will be subject to three years of supervised release. ®