Chinese rivals: ZTE to take on Huawei... in the UK
Wants to make a play for smart cities and IoT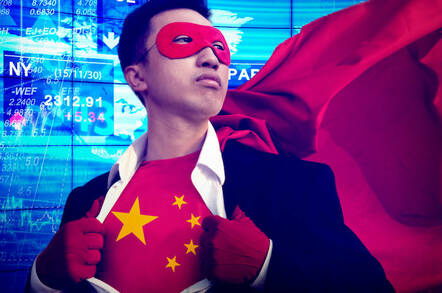 Chinese telco giant ZTE has set its sights on becoming as big in the UK as its rival Huawei, the company's chief information officer Jane Chen has said.
Speaking to The Register at the TM Smart City InFocus 2016 event in Yinchuan, China she said: "The UK is the most important area [outside of China] for ZTE" Right now the business is in the process of establishing itself, with a small team based in Blighty she said.
She added: "I don't think we could build up to Huawei's size in one day. But definitely [we'd like to be as big], because we treat this market as important and we are seeking to put more resources and partners in it."
She said: "Right now, IoT is the main [area of focus] and where new opportunities are coming. But from the traditional operator provider side there are also some new projects coming [up]. We were always there in the UK, but not that big. But now we are tying to get bigger."
The company is looking to increase its partnerships with other service providers in the UK. It has already has long-established relationship with BT working on R&D.
Building a partnerships is a model Huawei has been pursuing in Europe for many years - and is a route that has arguably taken sometime to get off the ground.
ZTE is currently operating a public private smart city partnership with the city of Yinchuan in China, where the smart city event is based.
Chen said China's centralised economy has enabled "strong top level design" and provides a basic idea of what should do and what the future looks like.
She said "A department gets a certain amount of money to solve the problem… [which provides] a whole picture approach." She said that means the city can think bigger more quickly.
Last month ZTE posted a profit increase of 9.3 per cent to 1.8bn yuan (£202m) for the first half of the year on revenue up 4 per cent to 47.8bn yuan (£5.4bn).
The company has a sizeable presence in the US marker, but earlier in the year it overhauled its management board after the biz was slapped with sanctions by the US government over accusations it had violated trade rules in Iran. The US government has since offered ZTE a reprieve until 28 November, according to Reuters. ®