Double-negative tweet could be Microsoft Surface Phone hint
Trolling or typo? Take a look-see
Microsoft may have just confirmed a Surface Phone via a cryptic tweet. Laura Janet Baker appeared to confirm the long-rumoured flagship via a double negative. It could be the end of the silly season; judge for yourself.
Rumours abound that Microsoft will kill off production of its current Lumia range by the end of the year.
The brand has gradually been deprecated in favour of "Windows phone devices".
Only four Microsoft Windows 10 Lumias were ever announced, the fourth seven months ago. Their success can be measured by the fact Microsoft introduced a BOGOF (buy one, get one free ) offer in June in various markets, via AT&T in the USA, for example.
Microsoft currently offers a bundle of a Lumia 950 case, screen protector and wireless charger for £312 or the larger 950 XL for £400.99.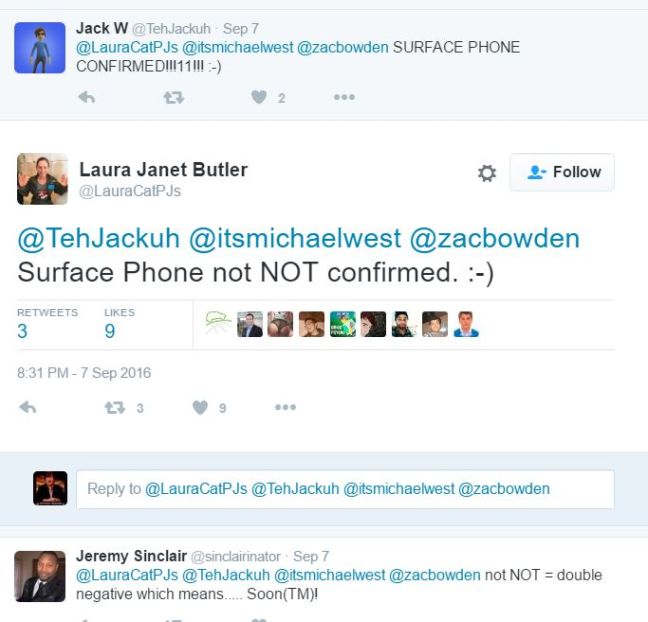 Top trolling
Speculation about an Intel-powered Surface Phone – a marquee product leveraging the Surface brand, capable of running legacy x86/x86-64 apps – began to circulate when it became clear the mobile phone portfolio acquired from Nokia was being run down. The company confirmed as much in June.
"We'll lead with some high end and category innovation like we've done with Surface, and OEMs will go and build the breadth of the catalogue," Windows VP Kevin Gallo told us. The plan floundered when Intel pulled out of making any more LTE modems.
HP has other ideas, though. It isn't going to settle for the scraps in a negligible consumer market, having thrown the kitchen sink at its business-focussed Elite X3, and built a virtualisation service to pipe over the x86 apps that the phone can't run natively.
It's hard to imagine what "category innovation" Microsoft can bring to the market, since all phone makers are stuck for ideas.
Perhaps the Microsoft Surface Phone will be magnetic, and collect up all the stray earpieces your iPhone 7-toting friends have lost. ®
Sponsored: Becoming a Pragmatic Security Leader