Dell considers Franken-products once it gets around to consolidation
Plans to make world better place … but first needs to sort its channel, local leaders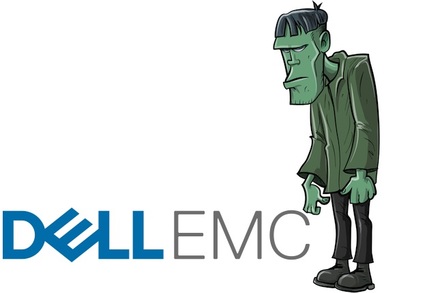 A running gag in the the HBO sitcom Silicon Valley points out that every other technology company has "making the world a better place" as its mission statement. Add Dell to that list: the leaders of the company's Asia-Pacific limb yesterday used more or less that mantra as to explain the company's next moves.
In a conference call for Asia-Pacific press and analysts, former EMC Asia-Pacific-Japan head David Webster and former Dell growth markets supremo and Asia-Pacific-Japan head Amit Midha explained Dell the company's new aims. It's basically a pledge to make products that help you build infrastructure to power the usual internet of things spiel.
To wit: it costs two-tenths of sod-all to make stuff smart, all those smart things will make lots of data and if you use that data right, there will be so much winning you'll get bored of winning. The pair said the newly combined Dell Technologies will be able to innovate so fast that humanity will soon stand on the precipice of a new industrial revolution.
Dell the company's not about to throw any sabots into the new engines of the internet, or at least not by pulling the rug out from users of its existing products and strongly suggesting they migrate to something new. That means the company has no immediate plans to do away with the likes of Compellent or Equallogic, Dell's storage offerings widely considered modest and perhaps a bit stagnant in comparison to EMC's alternatives.
Webster, now president of Dell EMC Enterprise Business, said all the current products will live because "We believe in having a product portfolio that has a degree of overlap so we do not have gaps."
But Webster added that "you will expect that over time we will use technologies from different products to create new products."
Franken-kit on the horizon, then!
Also still unsettled is the combined companies' channel strategies, due to emerge with a best-of-both-worlds model next February. Nor have executive positions been decided: Webster said it will be several months before the heads of Dell Technologies, and the underlings that report to them under the company's new structure, are all named.
Here's how that structure works in case you are curious. The whole shebang is called "Dell Technologies". All of Dell's enterprise bits and all of EMC are now "Dell EMC", aka the "infrastructure solutions business." Dell, the company, is now a "client solutions business." Think PCs.
Both Dell and Dell EMC use "Dell EMC Services" as their consultancy arm.
Confused yet? It gets weirder. Pivotal, RSA, SecureWorks, Virtustream and VMware will remain independent. But VMware and SecureWorks are listed companies so will be very independent, notwithstanding the presence of Michael Dell or Silver Lake private equity people on their boards. The other independent businesses report into Dell EMC.
Midha said that in time there will be one legal entity behind all of the above companies, but there's lots of lawyering to be done before everything is nailed down.
Plenty of time to make the world a better place. ®
Bootnote: In 1999 your correspondent did PR for Data General (DG), the company EMC acquired to get into the low-end fibre channel SAN business with the Clariion line. When EMC made the buy I was told a fascinating story by recently acquired staff that suggested EMC found DG's European structure to be extraordinarily – ahem – tax-effective. EMC's people quickly realised they couldn't beat it so had to join it. So after lots of legal work, Data General Europe acquired EMC Europe, which by that time owned the rest of Data General. Or so the story went.
Another irony: Dell now owns whatever DG server IP remains inside EMC. Might the Franken-products therefore bring us some lovely DG-style proprietary NUMA madness? We can only hope!
Sponsored: Minds Mastering Machines - Call for papers now open