HPE crams unloved software down Brits' throats – then charges them $9bn to swallow it
Ex-Autonomy code smuggled out in Micro Focus 'spin merge'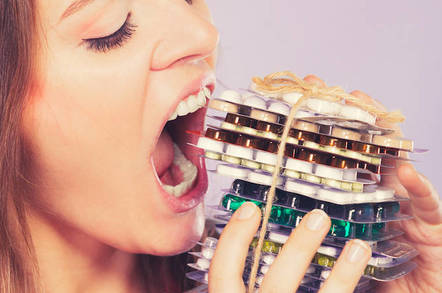 Hewlett Packard Enterprise will eject its non-core software business in what it calls an $8.8bn "spin merge" deal with UK-based Micro Focus.
HPE's big data, security, and IT management products – including some of its ex-Autonomy assets – will be spun out into a new company that will merge with Micro Focus. That's a software portfolio HP spent at least $10bn acquiring.
The financial machinations are expected to complete before the end of HPE's fiscal Q3 2017 on July 31 of next year.
Under the terms of the spin merge agreement, Micro Focus will pay HP $2.5bn cash up front for its software business. The remaining $6.3bn will come from a 50.1 per cent stake in the merged organization.
The resulting mutant will still be called Micro Focus and the Berkshire IT consultancy will continue to run itself day to day. However, HPE will have the power to appoint its own executives to serve on the company's board of directors.
Effectively, HPE will sell off a large portion of a software business that, in the three months to the end of July this year, reported an 18 per cent year-over-year drop in revenues to $738m. Licensing sales were down 28 per cent, while software-as-a-service revenues dropped five per cent.
HPE reckons that by combining its software holdings with Micro Focus, it can turn those fortunes around. The merged company is expected to have more than 4,000 salespeople and will have estimated annual revenues of $4.5bn.
Hewlett Packard Enterprise CEO Meg Whitman said that after the deal is completed, HPE will shift its focus to "core" software areas such as systems software. "It does not mean that they are bad assets," Whitman said of the departing products. "They are just not core to what we are doing."
HPE has also announced that it will be making SUSE its "preferred" Linux partner for itself and the spin-merge company. SUSE's OpenStack Linux software will be integrated with Helion and Stackato.
News of the deal comes as HPE reported Q3 2016 numbers that saw net revenues of $12.2bn fall by six per cent from the year-ago quarter. Earnings per share of 49 cents topped analyst estimates of 42-46 cents.
Net earnings of $2.3bn were up from $200m a year ago. That staggering leap is an anomaly from the HP-Inc-HPE split: in Q3 2015, HPE and HP Inc were still reporting as a single financially intertwined entity weighed down by costs. (The non-GAAP net earnings for HPE in Q3 2016 stood at $800m, down four per cent from the year-ago period.)
Aside from the sagging software revenues, HPE Enterprise Services saw revenues drop by five per cent to $4.7bn. Enterprise Group revenues were $6.5bn, down eight per cent, while Financial Services revenue of $812m was up one per cent. ®
Sponsored: What next after Netezza?