Sick of Southern Rail? There's a crowdfunding site for that
£25k sought for judicial review against UK Dept for Transport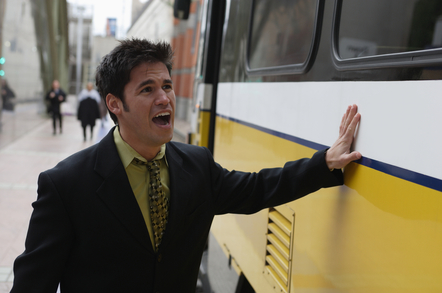 Frustrated Southern Rail passengers – like there's any other kind these days – have launched a crowdfunding page to pay for a judicial review against the UK Department for Transport (DfT) over its handling of the franchise.
The Association of British Commuters (ABC) is "seeking legal advice" from Devonshires Solicitors LLP and a specialist counsel to probe the actions of the government and force through change.
The group said: "We are looking for £25,000 to cover the initial stages of the Judicial Review. Please donate and help us bring the Government to account, protect the health, safety and livelihood of thousands of rail users, and change your future commute for the better."
Southern has made life miserable for tens of thousands of commuters for at least 18 months with "severe delays and dangerously overcrowded trains and platforms," ABC said.
Poor planning for a major overhaul of London Bridge station, and an ongoing feud with trade unions over the role of conductors on trains, leading to strikes, haven't exactly helped keep the service running.
Southern had introduced an emergency timetable in July, temporarily suspending 341 services to cope with the shortfall in driver numbers. It claimed drivers were calling in sick, a point disputed by union bosses.
This week about 100 services were reinstated but there is no word on when the remainder will be.
Southern's parent company recently reported profit of £100m for its most recent full financial year.
ABC said the situation had deteriorated, yet "still the Department for Transport have abstained from the responsibility to ensure safety and service by intervening in a franchise that is quite clearly falling apart".
During a judicial review the High Court can analyse the DfT's decision-making process and then, if required, make an order declaring the department's action unlawful, with a new course of action needed.
"This is not a claim for compensation for individuals, so there will be no funds to distribute to backers if the judicial review is successful. However, we will be ale to return monies to backers if our costs are recovered," the ABC stated.
Nearly £6,900 has been pledged so far - the initial target is £10,000 to fund a full legal review, but the ultimate £25,000 goal is based on estimation of costs for the whole process including making an application for permission to initiate the judicial review.
The Southern franchise is up for renewal in 2018, but rather than raising cash to pay for legal eagles in the interim, ABC teamsters might want to pop their heads into First Class when en route to London terminals to check if any barristers will help their cause pro bono - thought that may be unlikely.
The DfT refused to comment. ®
Sponsored: Becoming a Pragmatic Security Leader