Crashing PC sales don't stop HP Inc releasing two new ones
A 1½" tall cuboid and a Toblerone, respectively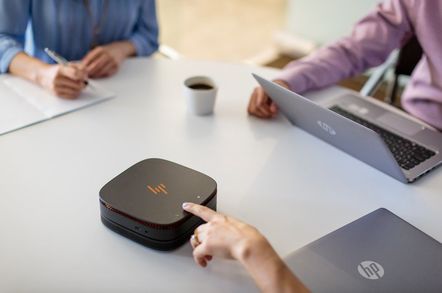 HP Inc has announced two new PC desktops: the miniscule and modular Elite Slice, as well as the new Toblerone of IT, Pavilion Wave, as a domestic entertainment machine.
Elite Slice is HP's smallest desktop. A 6.5" square, it stands only 1.38 inches tall, at least before you add the stackable modules, and is cooled by a 360-degree dual fan pipe ring.
These will include modules for audio and optical disk drives, and a collaboration cover intended to suit the enterprise by turning the desktop into a Skype for Business phone.
The Slice, which weights 2.31 lbs, can also be powered from display via a USB 3.1 Type-CTM cable, and can support up to an Intel Core i7 processor. It comes equipped with integrated wireless charging and USB Type-C.
HP expects it to retail in the UK for £500 come September, and as the modules don't need to be separately plugged into the wall, but rather sit comfortably atop each other attached via a proprietary connector based on USB 3.1, will be tailored for business specifications.
HP's Pavilion Wave meanwhile is a bit of a home entertainment PC, designed to sit on top of your desk at home. Looking like a fat felt Toblerone, it measures just under 11 inches in height. The triangular prism is covered in an acoustic fabric built around its central audio system, while a parabolic reflector on top of the machine both reflects sound and acts as an outlet vent for hot air.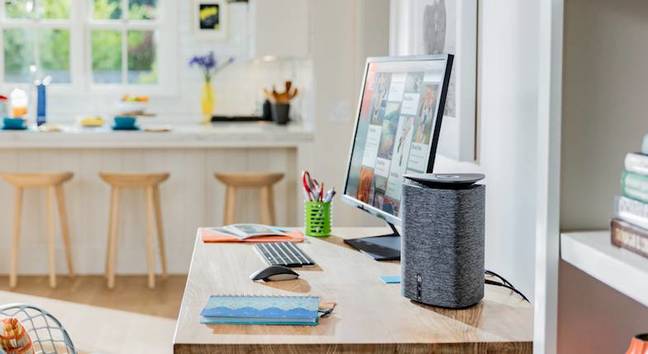 The Pavilion Wave supports up to a sixth generation Intel Core i5 quad-core processors, has three USB 3.0 ports, one USB 3.1 Type-C port for data transfer, one HDMI port, one DisplayPort, Gigabit Ethernet and a microphone/headphone jack. Storage can go up to a 2 TB HDD, with an optional 128 GB SSD, and up to 8 GB of DDR4 system memory.
It expected to be available in the UK from the end of September and the basics will set you back about £680. ®