Fake Twitter accounts, coup plots ... Wacky Hyperloop One lawsuit turns it up to 11
Amended complaint outlines alleged takeover attempt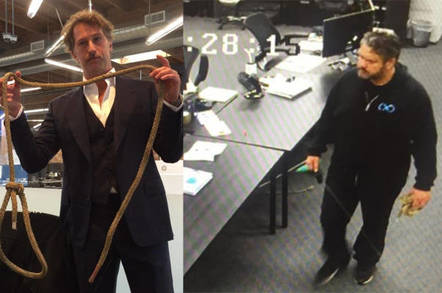 The extraordinary legal fight at Hyperloop One has grown even crazier – with the company claiming former CTO Brogan BamBrogan planned a detailed coup of the business.
An amended complaint [PDF] filed Wednesday in a Los Angeles court includes several new accusations about cofounder BamBrogan, including the claim that he held secret meetings where he identified staff to poach, sought out investors for a rival company, set up a fake Twitter account to disparage his former employers, and had planned an all-staff meeting when the CEO was out of the country in order to effect a takeover.
BamBrogan and three former employees sued Hyperloop One in June, filing a wild and colorful version of events at the transport upstart and asking for reinstatement, monetary damages and a public apology.
BamBrogan claimed, among other things, that the business was mismanaged, focused more on its celebrity status than actual engineering, and was rife with nepotism. He also claimed to have been physically threatened by the company's general counsel, with a "hangman's noose" left on his chair.
In response, the company provided details of BamBrogan's behavior, accusing him of often being drunk and abusive, acting threateningly toward female workers, and claiming that he quit the company after an attempt to take over the company failed.
It also claimed that the hangman's noose was in reality a cowboy's lasso because he was acting like a cowboy. Photographic evidence supports the lasso argument.
New details
The amended complaint contains new details about BamBrogan's alleged plotting against the company, in particular a meeting he held in secret in his garage just prior to confronting management and before the lawsuit.
According to Hyperloop One, BamBrogan wrote a long list of employees that they should seek to poach if they decided to set up a competing company. BamBrogan intended to use the threat of a rival company as leverage in an effort to get a controlling share of the company and put himself on the company's board.
He also hoped to use the visit of the company's CEO Rob Lloyd, and cofounder and chairman Shervin Pishevar, to Russia to meet with investors as a way to hold a staff meeting in which he intended to persuade them to agree to plans that would have put the four former employees – veep Knut Sauer, David Pendergast, assistant general counsel, and William Mulholland, veep of finance – in effective charge of the company.
According to the complaint: "These plans were thwarted, however, when Lloyd was informed of BamBrogan's efforts to disrupt the Company's relationships with its leading investors in Russia and changed his travel plans so that he would be available to address any issues at the company's headquarters."
Hyperloop also claims that BamBrogan admitted it would cost the new company – to be called Hyperloop Two – at least $2-3 million in litigation costs and in legal efforts to bypass patents held by Hyperloop One.
In addition, the amended complaint alleges that the plaintiffs took "several company-issued devices – including laptops, tablets, and iPhones – that contain sensitive Company data, documents, and information" and have refused to return them.
Fail
When the attempted coup failed and most Hyperloop One employees decided to stay with the company, BamBrogan and the three lead instigators decided to quit and soon after filed their lawsuit.
The company calls that effort a "Sham Complaint" and claims its sole purpose is to "spread embarrassing lies about the company and its key leadership."
The complaint also contains numerous mentions of a "fake Twitter account" that was used to launch "a malicious smear campaign in the media and across the Internet." Somewhat bizarrely, that account, @siliconvalleymg, contains but a single tweet linking to an article about the lawsuit.
Summing up the revised complaint, Hyperloop One's attorney Orin Snyder said: "Today's filing sheds even more light on the attempted illegal coup by this Gang of Four, and demonstrates the extensive plans they took to form a competing company. When their plans blew up in their face, they staged a propaganda campaign designed to harm the company. Now that has failed, too, and their plot has been exposed. We will hold them responsible for their conspiracy and lies, as Hyperloop One continues to prosper as a better company without their destructive behavior."
The first case management session is scheduled for November 9 in Los Angeles. ®