SpaceX Dragon capsule lands in Pacific carrying 12 moustronauts
NASA to watch Musketeer relatives carefully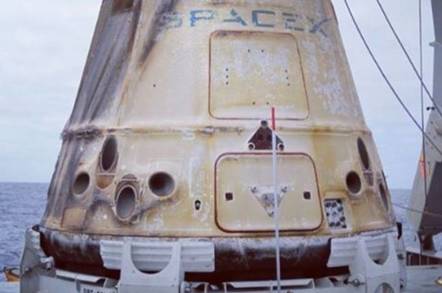 The SpaceX team has successfully recovered its Dragon capsule which was sent back to Earth by the International Space Station.
Recovery teams en route to Dragon, pic taken from about 10 miles out pic.twitter.com/B4ofhGZptD

— SpaceX (@SpaceX) August 26, 2016
The capsule, carrying more than 3,000 pounds of cargo, was detached from the ISS at 0311PT (1011 GMT) and conducted three rocket burns to get into position for reentry. After falling on schedule, the capsule deployed its three parachutes and splashed down at 0847PT (1647GMT) before being recovered.
On board were 12 mice which travelled up into low-Earth orbit with the Dragon capsule a month ago. The male rodents will be examined carefully to see the the effects of their spaceside sojourn, sadly not in a good way for the mice.
Boffins will harvest the mice organs for study and also collect the sperm, which will be used to artificially inseminate mice on earth to see if there are any hereditary side-effects of living in space. El Reg can't help feeling NASA's overthinking this – mice shag like rabbits, so why not let them have some fun before euthanizing them.
Also on board is an experiment into the effects of space on the human heart. Stem cell-derived heart tissue was sent into orbit and will now be assessed to give data on the health risks of a Mars mission. ®
Sponsored: Minds Mastering Machines - Call for papers now open