Brocade broadcasts financial success. Well, if you call an 89% profit drop 'success'
Better than expected, though Fibre Channel is faltering
Helped by two months of Ruckus Wireless ownership, Brocade's revenues for the third quarter of fiscal year 2016 were up seven per cent annually to $591m, a 13 per cent quarter-on-quarter increase.
The company posted profits of a paltry $10.5m, 89 per cent down on the year-ago quarter's $91.7m, and 23.3 per cent less than the previous quarter's $43m.
This was attributed to "acquisition-related items, including the lower gross margin associated with acquired inventory and deferred revenue, acquisition and integration costs, and increases in the amortization of intangible assets and stock-based compensation."
The segment breakdown:
SAN product revenue of $282m was down nine per cent year-over-year,

Fibre Channel director sales decreased 23 per cent,
Fixed-configuration switch sales increased 3 per cent,

IP Networking product revenue of $209m, including $73m of product revenue from Ruckus Wireless, was up 36 per cent year-over-year.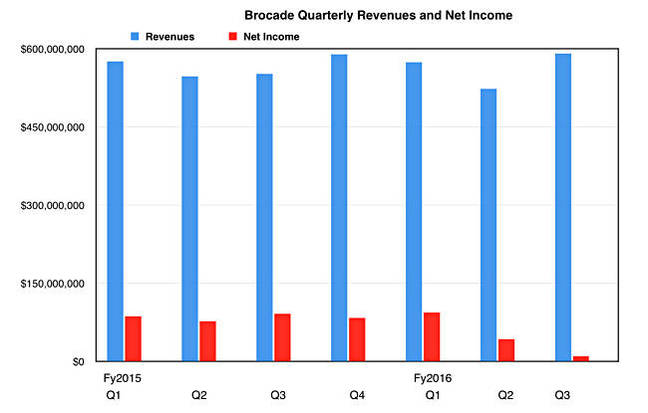 The IP networking busness was "affected by ower U.S. federal revenue, which was down 26 oer cent year-over-year, primarily due to the timing of large orders."
Brocade noted that "year-over-year and sequential declines in our SAN director revenue were primarily the result of a longer time to closure for many large deals, while the improvement in our switch revenue was primarily due to pull-through demand from all-flash array deployments. Overall, the decline in our SAN product revenue is consistent with commentary from many of our OEM partners regarding the weaker storage demand environment."
Network monitoring
Brocade has updated its Analytics Monitoring Platform which now includes:
Flow Collections – Customized monitoring levels per device, application or other logical groups of data flows, to simplify troubleshooting, speed up the planning process and provide better monitoring options for users
Optimised user workflows in Network Advisor to speed problem behaviour identifications and root cause analysis
Investigation Mode provides intuitive views to help detail drill down
Flow Filtering capability to pinpoint critical information in complex, virtualised environments with thousands of devices and tens of thousands of flows
Customisable reporting capabilities correlate metrics and events, summarize trends for behavior analysis and demonstrate compliance with performance SLAs
New database architecture in Network Advisor provides a more responsive user experience and increased scalability for large environments
New user-friendly dashboard interface and modern hardware design
Fibre Channel NVMe over Fabrics
The Fibre Channel SAN business, with 32Gbit/s product being rolled out, is threatened by hyper-converged infrasture systems preferring Ethernet for its virtual SANs, and by NVMe over Fabrics replacing traditional FC/SCSI-connections for shared storage. Earlier this month the Fibre Channel Industry Association (FCIA) conducted its first public demonstration of NVMe over Fabrics using Fibre Channel at the Flash Memory Summit in Santa Clara, California.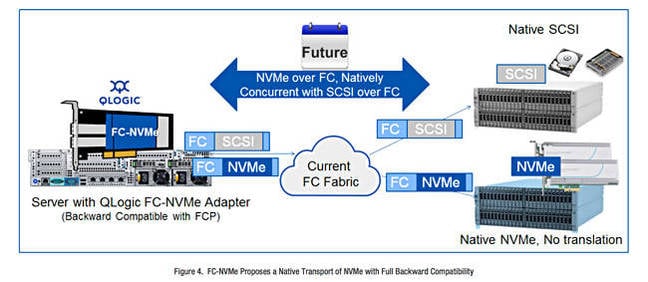 QLogic diagram showing NVMe over Fabrics using Fibre Channel
The demo showed:
Fibre Channel Latency reduction of over 55 per cent
Multi-Protocol storage area network (SAN) communication that eases data mobility between existing FC storage resources and NVMe over FC storage
Concurrent NVMe and SCSI traffic managed using existing Fibre Channel fabric resources
Tools to build the NVMe data centre — NVMe over Fibre Channel traffic capture and NVMe decoding
If the installed FC base could have an upgrade path to NVMe over FC Fabric then that could potentially represent good business for Brocade. Here is a QLogic white paper discussing the idea.
Next quarter revenues are expected to be between $630m and $650m; $640m at the mid-point, producing a $2.3bn full year result. This would be slight rise on last year's $2.26bn.
El Reg opines that migrating the Fibre Channel installed base to running NVMe Fabrics over Fibre Channel is a no-brainer. Customers should love the potentially easier NVMe over Fabrics adoption and consequent vast decrease in data access latency. Get in there, Brocade, and kick ass. ®
Sponsored: Minds Mastering Machines - Call for papers now open