Nimble Storage ticks over nicely but will shareholders want more revs?
Shrinking losses, embiggening revenues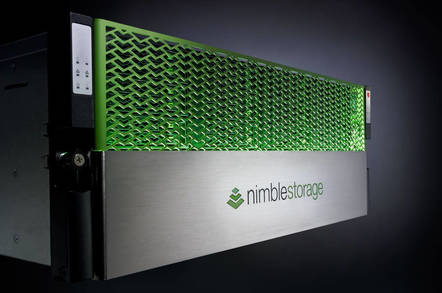 Nimble Storage's revenue of $97.1m for the second quarter of its fiscal year 2017 beat its guidance of $93m - $96m, which is good, and it generated a loss of $40m; better than the previous quarter's $42.7m loss but worse than the $30.1m it lost in Q2 last year.
On the annual compare, revenues were up 21.2 per cent – excellent – and up 12.4 per cent on the previous quarter, a solid performance.
Bookings from its all-flash arrays increased as a percentage of total product bookings from nine per cent in the first fy2017 quarter to 17 per cent in the latest quarter. Nimble points out that all-flash deals were twice the average hybrid flsh/disk array deal.
This is all well and good, but for Nimble, each dollar of revenue currently costs it $1.42. That's not sustainable. Investors generally set aside this kind of business pain when they see big growth, with future revenues on the current cost base being high enough to generate profits and so justify a high stock price.
If the big growth isn't there then where's the reason for investors to hold the stock? Is 21 per cent year-on-year growth enough?
Against this background, what did the company's management say? In a shareholder letter the company reiterates the growth opportunity it sees:
We believe that complex storage solutions from legacy vendors are no longer competitive, creating a significant share shift opportunity. At the same time, we believe that younger storage companies and startups do not have the breadth of functionality of our Predictive Flash platform. Consequently, we believe that we have the opportunity to emerge as a leading next generation infrastructure provider.
So Nimble has to grow fast enough that it takes share from the incumbents and doesn't lose it to the younger storage companies.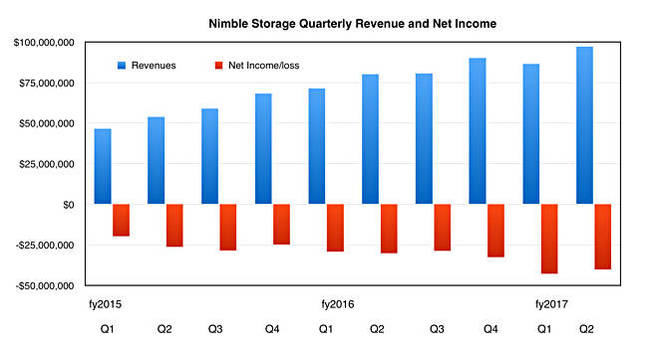 The shareholder letter states: "As we began this year, we had three main execution priorities. Our first priority was to invest in building a strong pipeline. Our second priority was to drive faster growth in strategic segments – namely, large Enterprises and cloud service providers. Our third and perhaps most important priority was to drive rapid traction in the all-flash array market."
"By executing on these priorities, we believed that we could increase our growth rates as we exited FY17, and we could also get back to demonstrating year-over-year improvements in operating leverage. While we are only halfway through the year, we are pleased with our execution against the plan thus far."
Nimble says: "Q2FY17 was our first full quarter since we introduced our All Flash arrays, and we saw strong momentum in terms of customer adoption, channel partner adoption and competitive win rates against the leading all-flash array vendors."
The installed base has passed 8,850 customers; up 43 per cent from a year ago. There were 133 AFA customers, 79 of whom were "new to Nimble" customers. Overall 700 new customers were added in the quarter, which meant 567 did not buy the all-flash array. Is all this rapid traction in the all-flash array market?
Analyst haus Stifel Nicolaus' MD, Aaron Rakers, has detected a slow down in new customer acquisition, writing: "We calculate nine per cent year-on-year growth in new customer TTM* bookings versus +20 per cent and +14 per cent year-on-year in the January and April quarters."
He has charted this growth: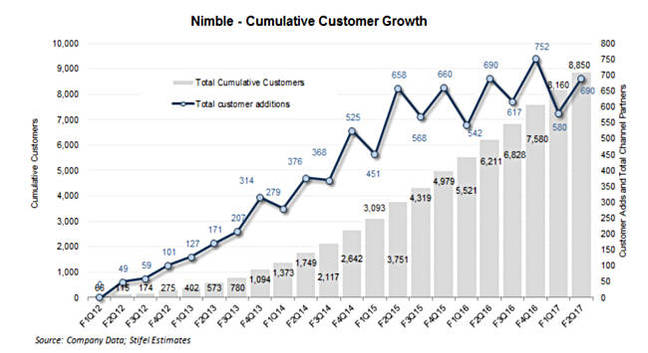 Overall Nimble was late to the all-flash array market, with hybrid array competitors Tegile and Tintri moving faster into flash. Also, many of its competitors are copying its analytics-led approach to array monitoring and support, so this Nimble uniqueness has been weakened. At the same time the older incumbent vendors have improved their all-flash array portfolios; think EMC, HDS, HPE, IBM and NetApp.
Consequently Nimble faces hot competition, which it knows, and has to work harder to generate growth, which it also knows.
The outlook for the next quarter is for revenue of between $100m and $103m, and, at the mid-point, this translates into revenue growth of 26 per cent from a year ago. Way to go, Nimble. ®
* TTM means Trailing Twelve Months
Sponsored: Minds Mastering Machines - Call for papers now open