Touchy iPhone 6, 6 Plus chips prone to breaking down and giving up
And Apple's Geniuses can't help you when it happens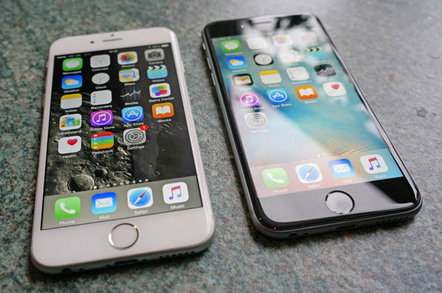 Apple's swanky iPhones can suffer chip failures that can render the touchscreen unusable.
This according to a report from DIY repair site iFixit, which says two controller chips on the iPhone 6 and 6 Plus logic board can lose their electrical contacts, and when they go, the handset's touchscreen no longer works.
The issue commonly begins with gray bars appearing on the screen or touch features not working occasionally. Because of this, iFixit says, the problem can incorrectly be attributed to a faulty touchscreen.
In reality, however, the issue is caused by failures in the U2402 "Meson" and U2401 "Cumulus" chips, both of which are soldered onto the main board and act as controllers to handle the touch features on Apple's smartphone.
The issue is limited to the iPhone 6 and 6 Plus, as the newer 6S phones moved the controller chips off the logic board and onto the display itself.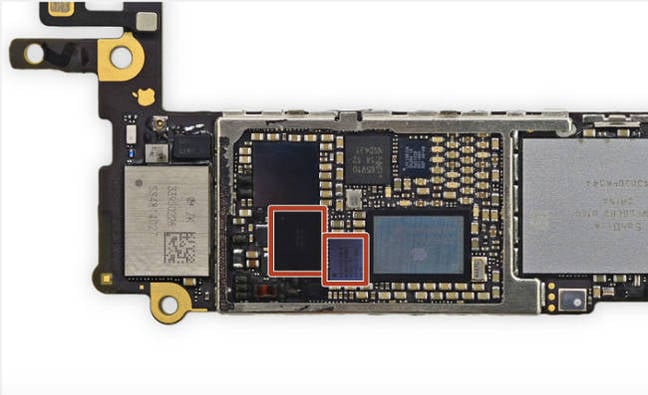 A close-up shot of the bad IC chips [Image via iFixit]
"These two chips translate your finger mashing on the display into information your phone can actually use," iFixit writes.
"When the Touch IC chips go bad, you can jab, tap, and poke the screen all you want – your phone can't correctly process the information. At least, not until the bum chips are replaced with new ones."
The problem, says iFixit, is that repairing the issue is not possible without doing soldering work on the board itself. This means that Apple's Genius Bar technicians would not be able to repair the issue on their own and the logic board itself would need to be handed back to Apple (or replaced).
Apple did not respond to a request for comment on the report.
"Apple's repair Geniuses aren't equipped to make specialized repairs to the logic board in-house, so they can't actually fix Touch Disease. But skilled, third-party microsoldering specialists can fix phones with symptoms of Touch Disease," iFixit said.
"And they can do it a whole lot cheaper than the cost of a new logic board or an out-of-warranty phone replacement."
It bears noting at this point that iFixit, which sells DIY toolkits and repair guides, has long been critical of Apple's policies on limiting third-party repairs of its tablets and smartphones.
By not allowing independent stores to act as authorized repair shops for its products, iFixit says Apple is preventing customers from getting less expensive, more efficient fixes for technical issues such as the touch chip failures. ®