Australian Federal Police resume NBN raids, this time in parliament
Former comms minister Conroy calls on cops to back off, current minister says they're just following orders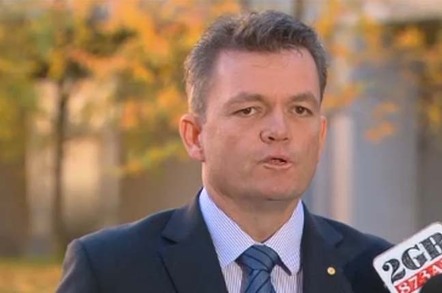 The Australian Federal Police (AFP) is resuming its hunt for documents associated with leaks about the financial position of the National Broadband Network.
Senator Stephen Conroy – former communications minister and now shadow to the special minister of state – has told the Australian Broadcasting Corporation (ABC) that the AFP is going to conduct searches of the Department of Parliamentary Services today.
Conroy told the ABC he would claim parliamentary privilege over any documents seized, as he already claimed over documents seized in previous raids in May 2016.
With parliament set to resume next week, Australia's Senate will be asked to determine the question of privilege. That, Conroy said on the ABC's AM program this morning, will be determined by a vote in parliament.
The AFP was called in to investigate the leaks in December 2015, and controversially conducted its first raid in the second week of the election campaign.
Conroy formalised his privilege claim five days later.
Conroy told AM this morning today's raid is "attempt to intimidate people not to actually do their parliamentary duties".
"Parliamentary privilege is a law of Australia, and the Federal Police are fully aware that I've claimed parliamentary privilege over all of the correspondence between myself, staff, staff of other shadow ministers, in the course of our duties."
Conroy reiterated his belief that the AFP should not be conducting this investigation, since nbnTM is not a "public authority" (it's a company owned by the Commonwealth).
"The legislation of the NBN Co [sic] does not allow the NBN Co to use the police to investigate whistleblowers," he told AM.
Communications minister Mitch Fifield took exception to that, calling AM to refute Conroy. Vulture South will leave it to readers to assess the refutation.
"It's not for members of parliament to determine what is the jurisdiction of the AFP," he said. "It's bizarre for a member of parliament to determine what is and what is not in the jurisdiction of the AFP."
Fifield said the Australian Federal Police is best-placed to know its jurisdiction.
"Why is he so sensitive about the AFP going about their obligations?" he asked.
Claiming that Conroy's all-fibre-to-the-premises NBN model would not have been completed until 2026 or 2028, Fifield also dismissed the claim that Conroy is trying to protect whistleblowers.
"This is not an inquiry, an investigation into whistleblowers," he said. "Whistleblowers are people who seek to put information in the public domain, in the public interest, in the interests of safety, malfeasance, maladministration.
"Any organisation is within its rights to call in the appropriate authorities [over] stolen material", he said. ®
Sponsored: Webcast: Why you need managed detection and response