Gaze in awe at Elon Musk's historic 156-foot erection
First retrieved Falcon 9 goes on permanent display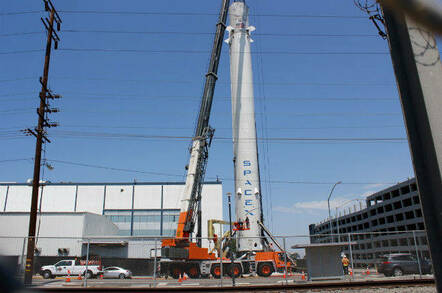 SpaceX has retired the first rocket it managed to land in one piece and erected the remains on Sunday outside the company's US headquarters.
The 156-foot (47-meter) rocket is the first stage of SpaceX's Flight 20 launch, which touched down at Cape Canaveral last December. Since then, its innards have been removed and extensively tested, the soot has mostly been rubbed off, and now it's set to become a local landmark at 1 Rocket Road, Hawthorne, California.
SpaceX employees watched from a nearby parking garage as the rocket was hoisted by crane on the corner of Crenshaw Boulevard and Jack Northrop Avenue. Some of the rocket nozzles have been replaced and a team of workmen attached the X‑wings that keep it stable before it was dragged up and bolted to its landing legs.
Musk had always promised to get his rocket up for all to see, but the plan was delayed because the factory is so close to Hawthorne Municipal Airport and the FAA was worried about the flight risk. It will join the company's first Dragon capsule to make it back to earth on permanent display, although that hardware is stored inside the facility.
Flight 20 was important for its landing, but also for restoring morale in the company after the explosive failure of the previous flight. The CRS‑7 resupply mission to the International Space Station was destroyed after an internal part failed under pressure.
It took six months for the company to get another rocket aloft, and its successful landing was a relief – almost more so than successfully delivering 11 Orbcomm satellites into low-Earth orbit. Since then the company has conquered sea landings and now has four rockets waiting for reuse, with the first due to fly again later this year.
Flight 20 wasn't the first rocket to successfully reach space and return, since Jeff Bezos' New Shepard rocket managed that a month before.
The 40-ton New Shepard made it 500 meters above the 100-km (62-mile) Kármán line that the Fédération Aéronautique Internationale has set as the border with height that you have to reach to call yourself an astronaut. It went straight up, hovered briefly, then came straight back down again.
By contrast, the 460-ton first stage went more than twice as high and many thousands of miles per hour, fired its second stage and commercial payload into orbit, spun 180 degrees and restarted its engines for the return burn. It then fell at supersonic speeds before touching down safely on land.
It's the equivalent of the DC‑3 taking off a month after the Wright Brothers' first briefly wobbled into the air. ®
Sponsored: Quit your addiction to storage