'Disciplined' NetApp cuts weight, turns in a prettier spreadsheet
Profits rebound and new marketing boss hired away from IBM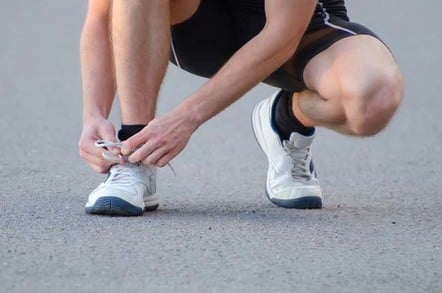 NetApp revenues dropped 3.7 per cent year-on-year to $1.29bn for its first fiscal 2017 quarter, ended July 29, but it turned a year-ago loss of $30m into a $64m profit as it reined in expenses.
CEO George Kurian referred to this in his prepared quote: "We are pleased with our first quarter results. Our focus on disciplined execution of our strategy is yielding results and starting to change the trajectory of our business."
Compared to the previous quarter revenues declined 6.5 per cent from $1.38bn but profits rocketed up from a loss of $8m.
The product revenue of $660m, down 1 per cent year-on-year and 13 per cent sequentially, was divided 39 per cent for mature products (-24 per cent y-o-y) and 61 per cent strategic ones (+24 per cent y-o-y). Strategic products include Clustered ONTAP, branded E-Series, SolidFire, AltaVault and optional add-on software. Mature products are 7-mode ONTAP, add-on hardware, and related OS and E-OEM products.
Clustered ONTAP penetration is 32 per cent of NetApp's installed base, with 82 per cent of FAS systems shipping with ONTAP, a 35 per cent rise on an annual basis.
Within this, the all-flash array business product revenues were highly satisfying, having a run rate of about $775m, up 385 per cent y-o-y, and 8 per cent quarter-on-quarter. Stifel MD Aaron Rakers compares this to Pure Storage's annualized product revenue run rate of ~$492m.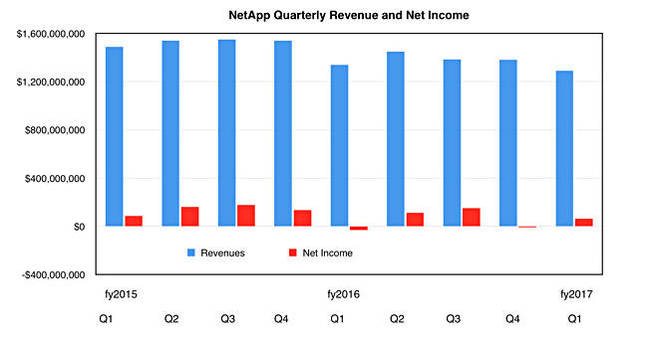 NetApp quarterly revenue and net income history.
The net quarter outlook is for revenues to be between $1.265bn and $1.415bn, $1.34bn at the mid-point, representing a 7.6 per cent decrease year-on-year. For fiscal 2017 to be a growth year the second half revenues have to grow strongly.
The company has appointed Jean English as its chief marketing officer. English was global VP for IBM Cloud Marketing and replaces the now-departed Julie Parrish. She has has been at IBM for 17 years. We're told English has a proven track record of leading teams that generate new ideas, challenge norms, and drive innovation to improve business outcomes. Watch out, Norm. ®