Cisco rewards massive profit jump with thousands of layoffs
Switchzilla to terminate connection on 5,500 employees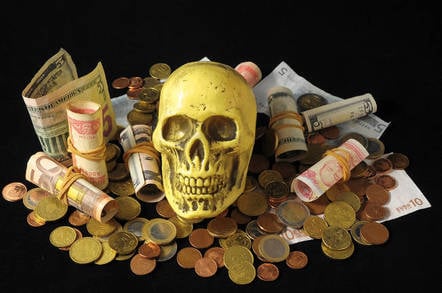 Cisco is reporting record financial numbers on the same day it says it will cut 5,500 employees from its payroll.
Switchzilla says that the move is part of its ongoing campaign to shift its focus from slinging networking hardware to providing software and services for enterprises moving to software-defined networks (SDN).
CEO Chuck Robbins said that the cuts would be in "lower growth areas" of the business and the payroll money saved would be reinvested in the SDN-focused areas. Cisco estimates that the recurring revenues from software and services now account for roughly 28 per cent of its revenues.
The cuts come amidst an otherwise strong 2016 Q4 for Switchzilla:
Revenues of $12.6bn were down 2 per cent over the year-ago quarter. Cisco argues that, subtracting the now-divested SP Video business, revenues are up 2 per cent.
Net income of $2.8bn was up 21 per cent on the year-ago quarter.
Non-GAAP earnings per share of 63 cents topped analyst estimates of 60 cents for the quarter.
Cisco's security business saw the biggest revenue jump at 16 per cent. Collaboration product revenue was up 6 per cent, wireless was up 5 per cent, and switching revenues up 2 per cent.
Service provider revenues were down across the board, as Cisco said that the video, NGN routing, and data center product revenues all fell on the year-ago quarter.
Regionally, revenues in the Americas were up 3 per cent, while the APJC region fell 2 per cent, and EMEA was up 3 per cent. Robbins said that the impact of the Brexit vote was "as expected" in the UK, with customers uncertain about the short-term future.
The 5,500 job cuts are estimated to bring a short-term cost of $700m in severance and associated costs for the outgoing employees.
For the 2016 full year:
Revenues of $48.7bn were up 3 per cent over FY 2015 excluding SP Video CPE. Including the divested unit, revenues were down 2 per cent.
Net income was $10.7bn, up from $9bn last year.
GAAP earnings per share on the year were $2.11.
Revenues in the Americas were up 3 per cent, while revenues in EMEA were up 1 per cent and APJC was up 6 per cent.
Despite the strong numbers, however, confirmation of the layoffs will likely overshadow an otherwise decent quarter for Cisco.
Alan Pelz-Sharpe, vice president and managing director with analyst firm Digital Clarity Group, told The Register that the layoffs, while bad news, were hardly a shock given Cisco's ongoing makeover at the hands of Robbins.
"He has been incredibly open about the fact Cisco has to work beyond its traditional business," Pelz-Sharpe said.
"They have made it 100 per cent clear that they have got to move more into IoT, security, software, and services."
While potentially lucrative for Cisco, Pelz-Sharpe noted that Switchzilla has a long road ahead if it wants to dominate those markets. In particular, with the sales channel and partnerships.
"Cisco has to develop its relationships further with the Deloittes and the Accentures and the PwCs, and become less dependent on the techie hardware-focused channel," he explained.
"It is a massive turnaround for a massive company."
Cisco shares were down 1.17 per cent on the news, trading after-hours at $30.72 per share. ®
Sponsored: Becoming a Pragmatic Security Leader