Google+ subtracts live videoconf service 'Hangouts On Air'
Another triumph for Google's social network as identical YouTube service takes over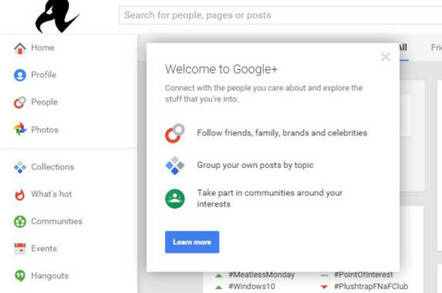 Google has slipped a death notice for Google+ Hangouts On Air into its support stream.
Hangouts On Air are multi-party videoconferences, spewed live on the internets.
Like the rest of Google+, they're hardly a household name and do not boast legions of slavering fans likely to fight for their retention. Even if those fans existed and could rouse themselves from the couch, Google's also the operator of a just-about-identical feature called YouTube Live.
So Google's decided to move any Hangouts On Air users to YouTube Live. Any saved Hangouts will be retained indefinitely, but the service will switch off on September 12th.
Google's not saying why it decided to shutter the service, but between the duplicate service and the fact Google+ has never won many hearts and minds it's not hard to see why.
Goolge+ technically has many millions of users, because it's tied to Gmail. But it's well down the charts of time-and-attention-grabbing sites. Google has tried redesigns and tweaks, and has claimed signups have run at over a million people a week. But it has also abandoned the service as a means of identification for Android gamers. ®