MoD flings £800m at Dragons' Den miltech startup wheeze as post-Brexit costs bite
Never mind real kit, hipsters want to make butterfly drones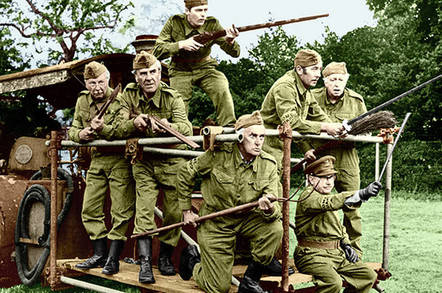 The Ministry of Defence is making £800m available for a Dragons' Den-style miltech startup funding panel – even as civil servants struggle to balance the books after the Brexit vote.
The Royal United Services Institute think tank says that the MoD could face extra costs of up to £700m – which is based on the assumption that the rate of decline of the pound against the dollar stays steady for the next two years.
Meanwhile, in tech creche world, the ministry wants to fling money at UAVs that look like dragonflies and virtual reality helmets.
"These are the types of futuristic technology that along with other smart solutions are set to be backed by the government's new defence innovation initiative," burbled the MoD.
Military chiefs are also hoping to see the designers of robots and other autonomous systems with a potential military application coming forward. The Innovation Initiative will also include an Innovation and Research Insights Unit, looking at how modern tech trends can be turned to military advantage, and a Dragons' Den-style panel for miltech startups to pitch their wares to the armed forces.
Startups interested in the funding will have to wait until September to find out any actual details about how to apply, though a handful of details about the MoD tech creche emerged at the end of July.
Missile firm MBDA was set to be supplying a laser cannon demonstrator, as part of the MoD's renewed focus on developing weapons of the future – though that deal has reportedly stalled after a legal challenge from a losing bidder. ®