HPE Software memo: We ARE several senior sales veeps lighter
Global leader Frank Vella and EMEA exec Tony Caine leave the building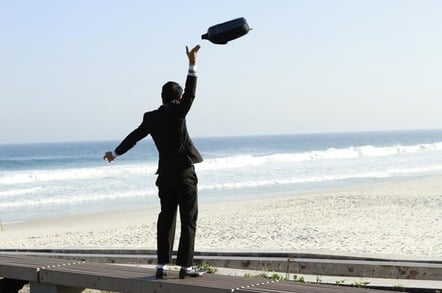 The global and EMEA sales leaders of Hewlett Packard Enterprise's software organ – the bit that is in discussions with potential buyers – have each left in the space of a week, insiders have told us.
Frank Vella, vice president of worldwide sales who reports to Alan Fudge (himself the number two at HPE Software) exited on 29th July after 18 months in situ.
In a note to staff - seen by us - Fudge, senior veep for WW sales and field ops, confirmed with "mixed emotions" that Vella was to "transition on from his role" and was "leaving HPE for a professional career opportunity."
Fudge credited Vella with a whole bunch of wonderful things, and revealed his successor as Kevin Norlin, a former Dell exec who currently heads up the worldwide sales operations and strategy team at HPE Software.
"To allow Kevin to comply with a non-compete agreement with his former employer, the organisation will be temporarily split, with Kevin's focus on international teams and business unit specialist leaders, while Neal Murphy and his AMS (Americas) team along with Patricia Tremba and her global virtual sales team will report to me directly," said Fudge.
Norlin had been the veep and GM for software within Dell's Americas operations but quit in May. After the non-compete clause ends, both Murphy and Tremba will also report to Norlin.
In a seperate memo to employees dated 3 August - also seen by El Reg - Fudge confirmed the departure of Tony Caine, veep of sales EMEA. "We are working to identify a backfill for the role as a high priority
"Effective immediately, Kevin Norlin will have the EMEA team report to him directly while we identify a permanent replacement."
It seems that Norlin will be a busy man for the months ahead.
Fudge left staff with one sweet, sweet thought.
"As we work through this leadership change, stay focused on your customers, drive your business with urgency, and refuse-to-lose through Q4 as we close out FY16."
HPE is reportedly in talks with parties to flog its software assets including Autonomy, Mercury Interactive and Vertica Systems. Negotiations are believed to be at an earlyish stage and may not lead to an actual sale.
Software and services comprised previous CEO Leo Apotheker's vision of a flourishing HP, but fast forward five years and the new management team are lopping off Enterprise Services too.
The Software division has lost sales in recent times, slipping from $3.71bn in fiscal 2013 to $3.3bn in fiscal 2015 (ended October). The unit has, however, consistently reported operating profit.
In the first quarter of fiscal year 2016, the unit filed sales of $780m, down ten per cent year-on-year and $4.7bn in Q2, down two per cent.
HPE has always struggled to get channel customers to buy into its software portfolio, and reckoned it was making ground but that work may now be finished - or not - under new ownership.
Multiple sources told us the exec exits were not related to each other or the pending outcome of the much talked about sales talks. In any case, HP refused to comment on the departures. ®
Sponsored: Minds Mastering Machines - Call for papers now open