Mitt Romney tax-return 'hacker' Dr Evil gets four years in the slammer
Bitcoin blackmail scheme? Zip it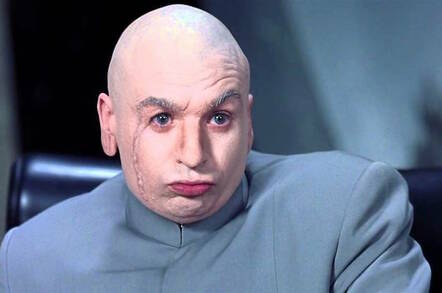 Michael Mancil Brown, aka Dr Evil, has been sentenced to four years in prison and must pay $201,836 in damages after claiming he obtained the tax returns of one-time presidential wannabe Mitt Romney.
Back in 2012, Brown contacted various journalists, including us here at El Reg, boasting that he hacked into the servers of PricewaterhouseCoopers (PwC). Brown claimed he had swiped copies of Romney's pre-2010 tax returns, which the Republican politician had refused to release. Using the moniker "Dr Evil," Brown asked for a million dollars in Bitcoin to leak the files.
"In August 2012, a letter delivered to the offices of PricewaterhouseCoopers in Franklin, [Tennessee,] demanded that $1 million worth of the digital currency Bitcoin be deposited to a specific Bitcoin account to prevent the release of the purportedly stolen Romney tax returns," the FBI said.
"The letter invited interested parties who wanted the allegedly stolen Romney tax documents to be released to contribute $1 million to another Bitcoin account. As part of the scheme, similar letters were delivered to the offices of the Democratic and Republican parties in Franklin and similar statements were posted to Pastebin.com."
At the time, Romney's lack of transparency about his tax affairs (it later turned out he was paying about 15 per cent per annum) was a major campaign issue – which sounds rather quaint these days, with Republican Donald Trump refusing to release any – and Brown obviously thought this would be a good way to cash in on the fuss.
But Brown hadn't banked on arousing the ire of both the US Secret Service and the FBI. They tracked him down, based on his communications online, and when they raided his home found no evidence that he had the tax documents. PwC also maintained that Brown never successfully hacked the firm.
In a jury trial, Brown was found guilty of six counts of wire fraud and six more of using facilities of interstate commerce to commit extortion. Despite facing a possible 25 years, the judge gave him just four years inside, meaning he won't be seeing Frau Farbissina until the start of the next decade. ®