Outsourcery burned through more than £20 MEEEELLION in cash before it crashed
Administrator's Statement of Affairs reveals the nitty gritty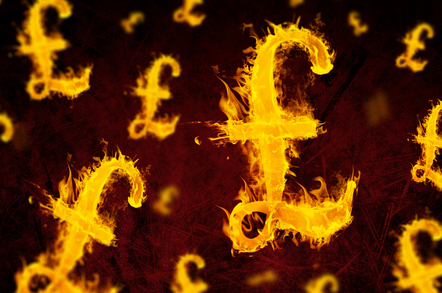 Defunct cloud infrastructure and apps provider Outsourcery Plc attracted interest from 12 bidders before it was offloaded to GCI Telecom for £4m, in a pre-pack administration handled by EY.
The Statement of Affairs filed at Companies House revealed the final weeks of the failed Manchester-based, AIM-listed corporation that simply ran out of cash – the number one biz killer.
Sales were relentlessly below expectations, leading to funding shortfalls: Outsourcery burned through £17.7m of cash from its IPO; and £4m of secured debt from Vodafone. It was seeking another £1m from Voda when the telco "introduced" it to EY.
In calendar year 2013, Outsourcery turned over £5.22m and reported a net loss of £9.12m. In 2014and 2015 sales went up to £7.38m and £8.05m respectively , and net losses were £7.6m and £6.22m.
The co-CEOs at Outsourcery, Piers Linney and Simon Newton, had tried to get external funding and considered issuing convertible bonds, an equity rights issue and even "sought the sale of the Core Platform".
Outsourcery was split into four business units: O-Cloud provided hosted Skype for Business and IaaS; MT sold multi-tenant app services such as MS Exchange and Lync; Core Platform was IaaS, hosting the IT of smaller clients; and a Public Sector Network.
Vodafone provided that extra seven figures of bridge funding and on 11 May EY embarked on a five-week sale process in which it and Outsourcery management identified 49 prospective interested parties.
Only 36 of these received a non-disclosure agreement to review and sign. 23 trade buyers and three private equity houses signed them. 12 suitors lodged non-binding bids on 31 May.
Whittling these down left two trade buyers interested in the O-Cloud, MT and Core platforms, and one equity bidder who wanted to buy the shares of the Hosting business, and latterly dropped out.
EY compared the next set of bids from two finalists and opted for GCI's bid because of its liquidity. The £4m offer was unconditional, and no further diligence or discussions with Vodafone were required to complete the sale: GCI was a Gold partner pal for Voda.
The document stated a pre-pack, a move that was exclusively revealed by us, was the chosen method because Outsourcery's "liquidity has been "substantially exhausted by this point" in early June.
Outsourcery Plc, Outsourcery Group Ltd, Outsourcery Holding and Outsourcery Holdings were placed into administration. Outsourcery US and Outsourcery Mobile were not but these were largely dormant and the only assets were intra-company receivables.
The £4m sales price included £3.73m for goodwill and nearly £270,000 for equipment. About 100 staff transferred to the new owners.
Post sale, Vodafone was paid £1.8m and then another £1.5m toward its £5m secured debt and £300,000 in accrued interest; Etive was owed £1m plus £8,000 in interest.
Non-preferential creditors' claims are anticipated to be in the region of £1.9m including £424,637 owed to Hewlett Packard International Bank, £165,244 to Fasthosts, £134,273 to Telecity and £112,937 to Bytes Software Services.
Certain parties have since expressed an interest in the PSN business unit, which was not part of the accelerated sales process.
And so ends the first chapter in the sorry tale of Outsourcery, one that shareholders will not remember with fondness. ®