Diablo backers toss $18m in pot to forge software keys to XPoint DIMM kingdom
Investors eye up Memory1 tech and OEM qualifications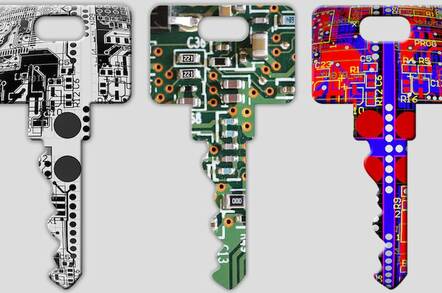 Analysis Things are looking up for Diablo Technologies. It has pulled in another $18m in funding and has tier 1 server OEMs qualifying its Memory1 flash-as-memory technology. Also the Netlist lawsuits seem to be going away.
Back in January it announced a $19m C‑round of funding, taking total funding to $77.8m. That C‑round was kept open and another $18m has been added, making it a $37m C‑round, with total funding now at $95.8m.
The incoming funders have seen the Memory1 technology and the status of the Netlist lawsuits, and decided to put money in.
The Memory1 technology sticks 128GB of NAND in a DIMM socket, and then uses DMX software to transfer data between it and DRAM and backend storage. The idea is to bulk out expensive DRAM memory with cheaper but slower NAND, which is a whole lot faster than accessing local disk or flash drives because (a) it is NAND, and (b) it is on the memory bus.
The company has 256GB Memory1 modules in development. Chinese server vendor Inspur has completed qualifying the modules for its use. It says its servers can now support larger and/or more workloads per server with no changes required to application software. There can be up to 80TB of system memory in a rack of Inspur servers. That will be 160TB with the 256GB Memory1 modules.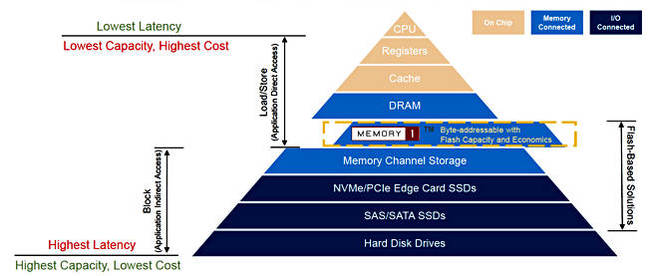 Diablo view of memory and storage tiering. Click chart to embiggen
Inspur points out that big data applications such as Apache Spark running on clustered servers need large amounts of memory to run efficiently, and a white paper discusses how to do it. Memory1 use can lower the server node count in Spark clusters, with the calculated benefits shown in this table: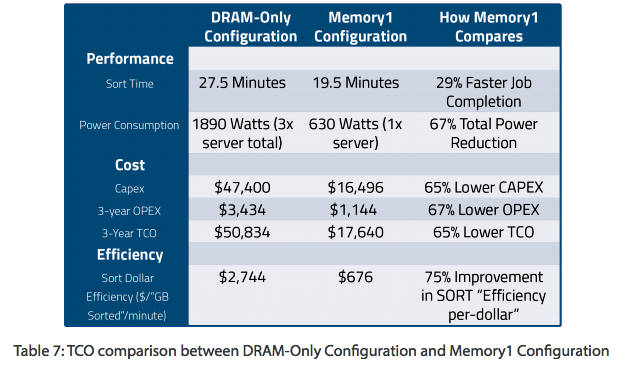 Inspur 1-server Memory1 vs 3-server DRAM-only benefits in Spark job
Supermicro is also in qualification, as is a tier 1 server OEM; think a Cisco, Dell, HPE, Lenovo-type vendor.
Hopefully Memory1 take-up will be better than the somewhat tepid MCS adoption through the SanDisk ULLtraDIMM technology.
Diablo has a new controller ASIC in development, which should speed servers using its Memory 1 product further.
Netlist lawsuits fade away
Kevin Wagner, Diablo's marketing VP, told us that there were contract-based and patent-based lawsuits from Netlist. The contract one has been won by Diablo, according to its lawyers. Wagner said Netlist had contested two patents and has lost on both.
Hopefully for Diablo, Netlist will now call off its legal attack dogs and let both firms get back to running their own businesses instead of having executives distracted by legal wrangles.
DMX software
DMX is a firmware-software combination that is loaded like a driver and sits between a server OS and the memory hardware. As far as app software is concerned, it operates transparently with no need for app software code changes.
It acts as caching software and preemptively moves data from Memory1 into DRAM to help keep applications running at full speed. There are data management and media management components and one aim is to keep as much app data in DRAM as possible and so minimise the effects of page faults when data is looked for that is not in DRAM. Another is to help flash endurance.
Data management keeps track of all application page sequences and ensures correct pages are in DRAM. Media management organises and optimises the flash layer to try and achieve maximum performance and endurance.
Conceptually there are three tiers: DRAM, Memory1 flash, and storage. High-priority and highly active or hit data is put in DRAM. High-priority means data with response time needs. When data is needed for DRAM from Memory1, then data around the required data is also loaded as there is a high probability it will also be accessed, and this avoids memory page faults.
DMX has a facility that learns app data access patterns and predicts when new pages will be required. These are pre-fetched from Memory1 flash. Pre-fetching can take place based on app-profiling, data-request history and data access patterns. Where possible, page requests are grouped to make optimum use of a page fault.
A Memory1 white paper [PDF] states:
All memory writes by the application are first written to DRAM and then asynchronously moved to the Memory1 DIMMs. While an application is continuously writing to the same region of memory, that data will remain in DRAM. The data will only be moved to the Memory1 DIMMs when the writing of data to that specific memory region stops and the pages become 'old' or 'dirty.'

Therefore, if pages are modified frequently and indefinitely, those pages may never be written to the Memory1 DIMMs, ensuring both optimal performance and endurance. Alternatively, any data continuously written randomly by the application to all pages in the memory map will flow through the DRAM to the Memory1 DIMMs to make room for new, incoming writes.
Pages evicted from DRAM are written sequentially to flash so as not to unduly detract from the NAND's endurance.
There is a Memory1 FAQ here and various app-specific white papers here.
Comment
What about 3D XPoint and the coming Intel Optane XPoint DIMMs? Our thinking is that Intel will be very much aware of the need for app-transparent XPoint DIMM access, and will have produced its own DMX-like software/firmware – unless it has licensed Diablo's IP.
We can expect to see an XPoint DIMM tier sitting between DRAM and a Memory1, with it being faster than Memory1 and also more expensive. So Memory1 will then be viewable as XPoint-lite in DIMM terms.
This sets the scene for potential partnership between Diablo and non-volatile memory fabbers Samsung, WDC/Toshiba and SK Hynix. To the extent that they produce XPoint-class product – resistive RAM variants or Phase-Change Memory – then Diablo is sitting there, ready and waiting, with its DMX DRAM-non-volatile memory tiering/caching software that they could use.
Without it, they have to develop their own software or license it/buy it from a third party. That takes time and Diablo has IP now, and has worked with SanDisk, now owned by Western Digital, in the past. El Reg might point out that Diablo Technologies is sitting in a nice place right now. It appears to have the only software keys to the XPoint DIMM competition kingdom. ®