Microsoft grabs employment guns, aims at British sales units
Shouts pull.... people run for their live....lihoods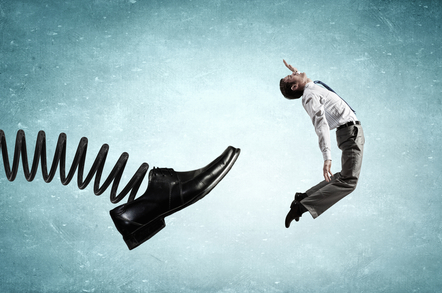 Microsoft is expected to release more than 100 employees across the UK organisation from the shackles of employment, multiple sources have told The Register.
Hapless staff were recently flown to Orlando for the FY'17 global sales kick off MGX – Microsoft's Global Exchange – where they heard about priorities for the year ahead and Justin Timberlake sung to them.
On returning home, Microsoft delivered the news that 2,850 people among the wider sales force and the Windows Phone division are to be released into the wilds before the end of next June.
Locally in the UK, a little over 100 individuals are to be shown the door across the business and the cloud was blamed for the restructure.
One source close to the process claimed the company had "put the entire UK enterprise sales force at risk" though he did not expect the full quota of redundancies to be made up by that division alone.
He said that like IBM and Cisco, Microsoft is hiring cloud sales people but doesn't feel it has the requisite skills on board to get to grips with the cloud.
"Life as an enterprise licensing sales person will be short-lived, the conversations with customers are completely different with the cloud, its a different mentality," another source claimed.
IBM is axing roughly 14,000 jobs this year but has vacancies in areas management deemed strategic including cloud and analytics. In 2014, Cisco chopped 6,000 of the old guard and brought in 7,000 newbies for the same reason.
Microsoft confirmed last week it is to also going to cut people loose in the Windows Phone division, a part of the business that has managed to seize just three per cent of the global handset market, and one that was blamed for missing the 1 billion devices target for Windows 10 installations.
El Reg asked a spokesman at the company for comment on the enterprise sales force entering a period of consultation and the wider cuts. He sent us this statement:
"In line with the increased demand for our commercial cloud offerings, Microsoft is growing and will continue to grow its enterprise sales force in the UK.  As we start our new fiscal year, we make sure our resources map to the high expectations of our customers and therefore adjustments are necessary to the shape and nature of our teams."  ®