What's on a road to nowhere? Ingram's Q2 numbers
Come on inside... and take a peek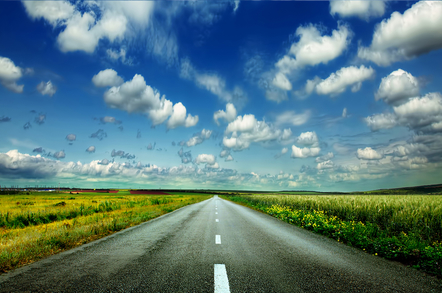 Ingram Micro outlined progress, or rather lack of it, when it reported calendar Q2 numbers last night and did little to convince financial markets - including Shanghai's Stock Exchange - that it is a business going places fast.
The world's largest tech distributor said revenue for the three months ended 30 June were down four per cent year-on-year to $10.12bn with nearly all of the major regions reporting leaky sales.
Currency costs and a contract change in some high volume lines that led to an alteration to revenue recognition were factors here, Ingram pointed out.
North America fell from $4.43bn to $4.18bn; this was in part caused by exiting "mobility distribution business" that didn't hit "profitability targets" but was partially offset by networking, security and PCs.
Ingram's European ops dipped 2.45 per cent to $2.78bn, despite a contribution from acquired entities including Comms Care. The firm noted particular "softness" in smartphone sales.
Turnover in Asia Pacific dropped to $2.25bn from $2.48bn as consumer demand slowed in China "led by weakness in smartphones, tablets and networking solutions, which offset growth in PCs, servers and storage".
The Latin America subsidiary was the only region to grow, rising to $650.9m from $598.2m on the back of the buy of local distributor Grupo Acâo.
HP Inc and Hewlett Packard Enterprises accounted for 14 per cent of total global revenues, Apple products represented 11 per cent as did Cisco.
Back in February, Chinese logistics business Tianjin Tianhai, itself part of conglomerate HNA Group, bid $6bn to take over Ingram, whose shareholders approved the buy earlier in the summer.
The Shanghai Stock Exchange however last week asked for details about the sale and it questioned the financial health of Ingram, specifically why Q1 results were well below par and why Ingram's margin trailed peers.
A meeting of Tianjin Tianhai shareholders was postponed while the companies respond to the exchange. The proposed buy received clearance from Ingram's shareholders a bunch of authorities, and it is now in front of the Committee for Foreign Investments in the US to review the transaction.
Gross profit was up 9.45 per cent to $718.9m as Ingram quit lower margin deals, and drop in operating expenses to $621.4m boosted operating profits, which came in at $97.4m versus $2.06m a year earlier.
Ingram offloaded its home control and electronics distie Avad for $27.8m as it was "not deemed core to current strategies". The organisation was bought for $120m in July 2015.
Op-ex included a rise in sales, general and admin overheads and a slight spike in reorg costs, but impairment charges in internally developed software of $115.8m in the prior year period was not repeated.
After tax and interest payments, net profit was $54.6m compared to a loss of $34.3m.
Ingram's share price dipped by nearly half a per cent to $33.37. ®
Sponsored: Detecting cyber attacks as a small to medium business