Huawei P9 Plus: Leica-toting flagship gets a big brother
Useless to drug dealers? Tell me more...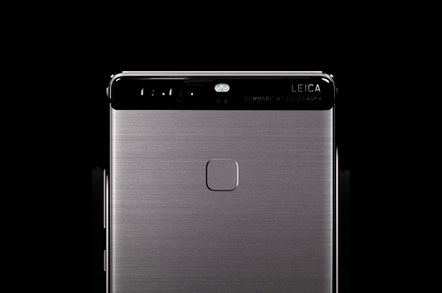 Review The P9 Plus deserves to be Huawei's real flagship of 2016, and given the price tag, it's a belter. Like the iPhone Plus, it feels like a very different beast to its smaller sibling.
In a nutshell, you can save a small fortune by opting for the P9 Plus over an iPhone or Samsung's Galaxy S7, but you'll miss out on the latter's wireless charging support and waterproofing. You will get an IR Blaster and the dual lens camera identical to the P9's and stereo speakers. That's what the choice boils down to.
The Galaxy has far better after-market support with a wide range of Samsung and third party cases, and there are some hidden treasures in Samsung's own app store, particularly the music studio app.
But whether this is worth it is up to you. Vive la choice.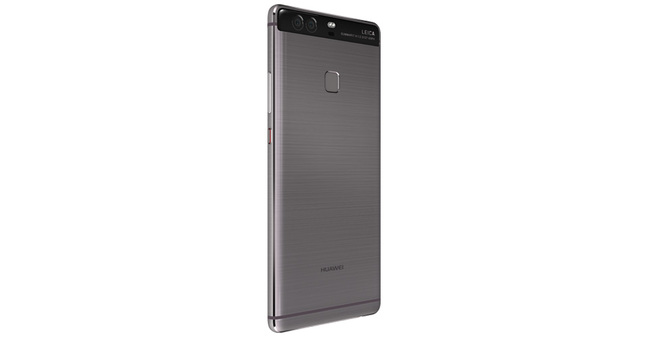 What's in the P9 Plus box? All that ... and a built-in scale
The build quality and finish of both P9 models is outstanding. Both pack the Leica-branded dual lens camera, Huawei's best-in-class fingerprint sensor, and its, uh… distinctive UI. The Plus doesn't actually sound much bigger than the original. It packs a 5.5inch (vs 5.2 inch) display, is 7mm wider and a little over 4mm taller allowing for a bigger (3400 mAh vs 3000 mAh) battery, and the same thickness. But the P9 feels very slimline by comparison.
Since the Plus's display resolution is unchanged at 1080 x 1920, the pixel density is lower, but it's a bold and bright SuperAMOLED panel.
Besides a bigger battery, the difference is the inclusion of an IR blaster, more storage (64GB or 128GB) and a Force Touch pressure sensitive. With the P9 Plus, you can use the display to weigh an orange. (Or any other object weighting between about 100g and 400g, which makes it useless for the typical drug dealer).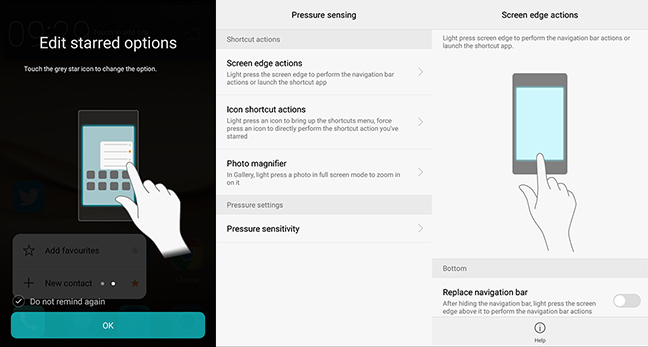 There are a few things you can use pressure to do - but in real life, it's easier not to bother
But for all the media hype about "3D" and a "new way of interacting", this technology has been a bit of a flop, even with Apple's might behind it. On the P9 Plus you can see why. On the desktop, it only works with Huawei's EMUI launcher, so if you change to a third party (which you might need to for your sanity), forget it. Huawei didn't even include the scales app with the device. The only time I even noticed it was there was by using it as a magnifying glass in the Gallery app.
I'd have preferred Huawei expand on its brilliant idea of using the fingerprint sensor for useful gestures. Up/down swipes can invoke or hide the notifications pull down, which is very handy. It can be used to trigger the camera shutter. But it doesn't do much more.
Flagships and the men and women who love them
Since reviewing the P9 I've taken all this year's flagship cameras through the mill. And while I won't dwell too long mansplaining the identical imaging unit in the P9, it is a good time for a reassessment.
Huawei might have oversold the Leica relationship - which resulted in a grumpy backlash. Huawei had already been making excellent phones for a while, particularly impressing in the sub-£300 category, but Leica is Huawei's passport to the big league, and bigger margins. So Huawei roped in professional photographers and Scarlett Johanssen to promote the partnership.
But now the fuss has subsidised, we can see it for what it is: a fun top-end smartphone camera. It has the flaws of other cameraphones, struggling with high contrast screens, and barrelling, for which there is no magic cure in a 7mm thin device. That just goes with the territory. The P9/P9 Plus scarcely helps by making monochrome images as too dark. But the dual lens adds a lot of fun. Images are generally detailed and well balanced. Buyers won't regret it.
Sponsored: Beyond the Data Frontier