Lowland Scots plunged into panic by marauding ostrich family
Nicola Sturgeon's home county stalked by angry Struthionforme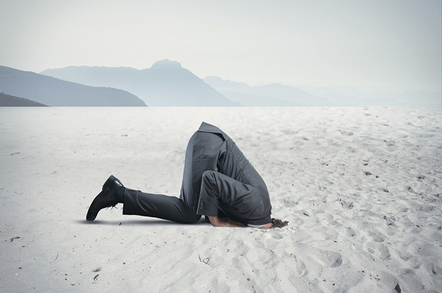 Residents of Ayrshire are living in fear of a marauding family of ostriches that have mysteriously appeared in the usually quiet Scots region.
The Scottish Society for the Prevention of Cruelty to Animals issued an alarming bulletin today, warning residents of the home county of both Biffy Clyro and Nicola Sturgeon that at least one of the large flightless birds was on the loose.
Specifically the beast - more usually found roaming the African Savannah - was spotted around the village of Patna, in the east of the county. Which has left authorities puzzled as there are no ostrich farms, or other potential sources of the mega-bird, in the area.
Animal Rescue Officer Alistair Hill said, "It is unclear where the ostrich has come from but we think it may also have young with it."
He added, "We are warning members of the public not to approach the adult ostrich and to especially avoid approaching its young as ostriches can be very protective and can become extremely aggressive."
Male ostriches can grow to 2.8m, though females top out at 2m, and can weigh in at 115kg, and 100kg respectively. Their eggs weigh up to 1.4kg, and take up to a month and half to incubate.
Apparently, ostriches in captivity can survive well into their early 60s - putting them about a decade behind the average Glaswegian male. They can outrun most predators, but if cornered will deploy a flurry of powerful kicks. Ostriches, that is, not Glaswegian males.
The 2013 film Under the Skin featured Scarlett Johansson as mysterious alien adopting the form of an attractive young woman to prey on unsuspecting men in Glasgow and the Scottish countryside. We suppose it's possible some actual aliens have completely gotten the wrong end of the stick.
Whatever the reason for the ostrich rampage, we presume it'll be Westminster's fault. ®